Story Progress
Back to home
Rosemary Chicken Recipe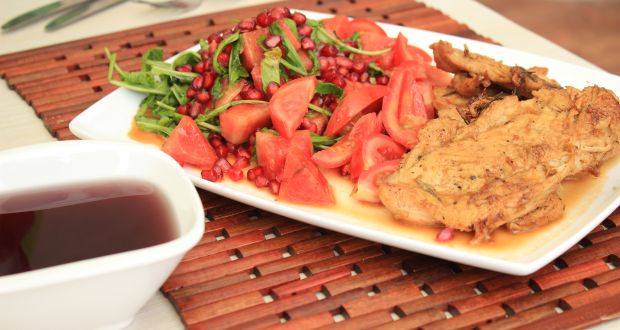 Suparna Trikha uses rosemary and bay leaves, to conjure a fresh summer meal of chicken breasts flavored with rosemary and a hint of honey.

Ingredients of Rosemary Chicken
For marination:
4 boneless chicken breasts
1 Tbsp ginger garlic paste
8 rosemary twigs with leaves
1 tsp lemon juice
Pinch of salt
1 tsp honey
3 bay leaves
Handful basil leaves
2 Tbsp oil
Salt & pepper to flavor
1.
Split the breast pieces and thwack them out to flatten the pieces.
2.
Add rosemary twigs to marinate. Rub ginger-garlic paste, salt and lemon juice into the breast pieces. Let it rest for sometime.
3.
In the meanwhile, roast a few bay leaves in a pan, and then add oil till they crackle.
4.
Place the chicken breasts on high flame and grill on both sides.
5.
Crush some pepper on top add a little water and simmer for 20 minutes.
6.
Poke a fork to check if the chicken is cooked. If not let it simmer for some more time.
7.
Now add a bit of honey to caramelize the chicken, grill for a little while and serve hot.