Story Progress
Back to home
Salmon With Mango & Sherry Reduction Recipe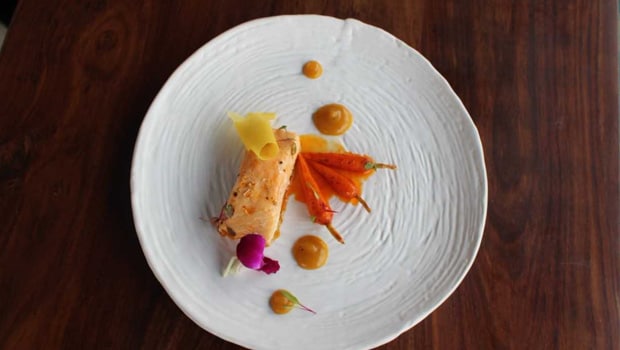 How to make Salmon With Mango & Sherry Reduction
About Salmon With Mango & Sherry Reduction Recipe: Bursting with goodness, this low fat recipe fuses sweet fruit with fresh vegetables – a perfect dish for a warm summer Day or evening. Salmon With Mango & Sherry Reduction is a delicious fusion made with Salmon, a great source of Omega 3 fatty acid and loads of protein. Salmon poached in olive oil in a sous vide, paired with some sumac and chili spiced carrots and served with mango and sherry reduction as a puree & Mango Leather. You just cannot say no to this exotic pair!
Total Cook Time

2 hrs 55 mins

Ingredients of Salmon With Mango & Sherry Reduction
200 gms mango (ripe)
100 ml sherry
40 gms baby carrots
10 gms sumac powder
10 gms chilli paste
150 ml olive oil
1 clove garlic
A sprig of fresh sage
150 gms salmon
to taste Salt
6 gms black pepper
5 gms hot pepper sauce
Prepare salmon:
1.
Put the fresh salmon fillet in a brine solution of 20% salt for 30 minutes.
2.
Mix olive oil, smashed garlic clove, black pepper, salt and sage together.
3.
Once the salmon is brined, pat dry it on kitchen towel or paper and marinate the fish in the olive oil mix, Put everything in a food grade plastic bag and vacuum the fish.
4.
Set the Sous vide Water bath for 70 Degrees temperature and once reached cook the fish in it for 14 minutes.
Prepare mango sherry reduction:
2.
On a heated pan, reduce the sherry brandy, once the alcohol is out, add the mango pulp and then season with salt & pepper.
3.
Cook it further to get a perfect consistency and season it with pepper sauce to get a punch in it.
4.
Put the reduction in a squeezy bottle or a piping bag for further use.
Prepare sumac and chili spiced carrots:
1.
In a bowl add sumac powder, chili paste and olive oil together, Season with salt & pepper to adjust the taste.
2.
Peel the baby carrots, keeping the stem intact and then add it to the above mixture and cook it in the oven at fairly low temperature until carrots are cooked.
Prepare mango leather:
1.
Add the mango pulp with some Gluco and make a paste out of it.
2.
Spread the mix over a silpad sheet and dehydrate it on a temperature of 60 degrees C for about 3 hours.
Assemble the dish:
1.
Take the three pieces of carrots and place it in the center with the flavored oil. Place the cooked salmon next to it. Squeeze out the mango puree on the plate. Finally take out the dehydrated mango leather and place it on the salmon.
2.
Garnish it with some fresh micro herbs and edible flowers.
3.
Water soaked sweet basil seeds can be added just as an extra value or garnish to the dish.