Story Progress
Back to home
Seafood Crepe Recipe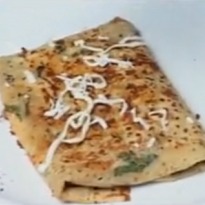 Aditya Bal visits Crepe Station in Mumbai, and makes the signature seafood crepe supervised by the Morea brothers, Dino and Nicolo. Stuffed with a filling of squids, tuna, prawns and cheese. They are to die for!

Ingredients of Seafood Crepe
For the crepe batter:
1 egg
200 gm milk
Pinch of salt
4 tsp flour
3 tsp water
Basil leaves
For the seafood filling:
2 tsp oil
1 tsp chopped garlic
2 tsp chopped onion
Prawns
30 gm squid
50 gm tuna fish
Pinch of salt
1/2 tsp green chilly
Pinch of julienne ginger
4 tsp tomato puree
For the crepe batter:
1.
Blend egg, milk, salt, flour, water and basil one by one, cover them and keep it in the fridge for 30 minutes.
For seafood filling:
1.
Mix oil, saute garlic and onion. Add prawns, squid, tuna fish saute.
2.
Let them simmer for sometime and add salt, green chilly and juliane ginger to it.
3.
Simmer them again for few minutes.
4.
Add tomato puree and simmer them till it becomes brown.
6.
Remove seafood batter from the freezer and pour it in the pan.
7.
Flip it to the other side when it gets brown.
8.
Add seafood filling in the seafood batter. Put Cheese on it and fold it.