Story Progress
Back to home
Singapore Noodles Recipe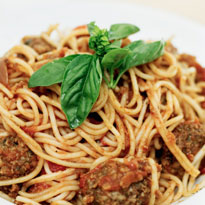 How to make Singapore Noodles
Vermicelli or rice noodles fused with warm and intense flavors, cooked to perfection.

Ingredients of Singapore Noodles
120 Gram Rice Vermicelli (soaked and drained)
1 1/2 cups Sprouts , blanched
1 cup Spring Onions, chopped
1 Capsicum , julienne
1 1/2 cup Cabbage, sliced
1/2 cup Onion, sliced
2 tsp Garlic, chopped
2 tsp Ginger, chopped
1/4 cup Water or Stock
2 tbsp Soya Sauce
1 tsp Sugar
to taste Salt and Black Pepper
1 1/3 tbsp Vietnamese Curry Powder
1/4 cup Oil
1.
In a small bowl, mix together the water/stock, soy sauce and brown sugar. Set aside.
2.
Heat oil in a large wok and over high heat,add the curry powder and garlic. Stir-fry until fragrant.
3.
Add the onion, stir-fry until it begins to soften.
4.
Push to the side and add the ginger and spring onions and stir-fry until the spring onions soften.
5.
Add the capsicum and cabbage and stir-fry till a little soft.
6.
Stir in the bean sprouts, cook briefly, then add the noodles.
7.
Add the sauce, tossing the ingredients carefully to mix.
8.
If too dry, add a bit more water/stock.
9.
Add salt and black pepper to taste. Serve hot.