Story Progress
Back to home
Soda Bread Recipe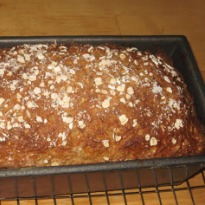 An easy to make homemade soda bread, also known as Irish soda bread. Usually has a hard outer crust but is nice and soft inside. Healthier than the usual breads as it is made with whole wheat flour and small portions of refined flour and oatmeal.

Ingredients of Soda Bread
Dry ingredients:
400 gram wholewheat flour/atta
75 gram plain flour/maida
75 gram oatmeal
1 tsp salt
3/4 tsp bicarbonate of soda
Wet ingredients:
1 egg
1 Tbsp sunflower oil
2 tsp honey/soft brown sugar
425 ml or 3/4 pint buttermilk or add 2 Tbsp lemon juice to 600 ml milk (1 pint)
Small amount of oat bran for garnish
Equipment:
1 lb loaf tin, well buttered
1.
Grease a loaf tin with butter/oil. Preheat the oven to 200 degree C.
2.
Put the flours, oatmeal, salt and bicarbonate of soda into a bowl and mix well. Make a well in the center to be ready for the the wet ingredients.
3.
Whisk the egg and add it to the oil, honey and the buttermilk. Pour the wet ingredients into the dry ingredients and using your clean hands, mix well. The dough will be very sticky.
4.
Grease tin with butter and sprinkle flour lightly over the base and sides and then sprinkle some oat bran flakes on the bottom.
5.
Pour into loaf tin, flatten down with a spoon the shape and clean look you create now is what will come out.
6.
Now cover tin loosely with foil. Bake for 20 minutes in the bottom rack.
7.
Now take out foil and bake for another 15 minutes.
8.
To test, take it out of its tin and tap the bottom. If its cooked, it will sound hollow. Allow to cool on wire rack before eating.