Story Progress
Back to home
Southern Style Okra Recipe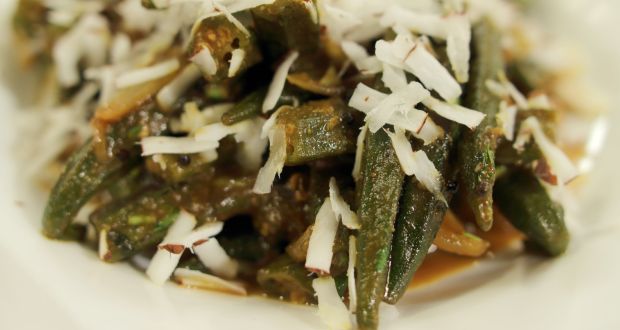 How to make Southern Style Okra
About Southern Style Okra Recipe: A south inspired dish with lady fingers, coconut and a few spices, Southern style okra is perfect for a light lunch paired with chapati. This is a quick and easy bhindi recipe that can be prepared in absolutely no time so you can even pack this okra dish for tiffin.

Ingredients of Southern Style Okra
Refined oil
250 gms okra or lady finger
1 tsp mustard seeds
1 tsp fenugreek seeds
1 onion , chopped
2 Garlic cloves, chopped
2 Green chilies (slit)
A pinch of turmeric powder
Red chili powder
1 tsp coriander powder
Water
3 tsp tamarind extract
10 gms jaggery, chopped
Coriander leaves
coconut, grated
to taste Salt
1.
Drizzle a pan with 1 1/2 tsp of refined oil. Add okra, season it with salt and let it fry.
2.
Heat another pan and drizzle it with 2 tsp of oil.
3.
Add mustard seeds, fenugreek seeds and fry them.
4.
Add onion, garlic and green chillies to the pan and saute it.
5.
Add fried okra to the pan.
6.
Season it with salt, turmeric and red chili powder and coriander powder.
7.
Sprinkle little water to create the steam.
9.
Add tamrind extract & jaggery.
10.
Cook the okra in low heat for 2-3 minutes.
11.
Finish it off with fresh coriander leaves and some grated coconut.