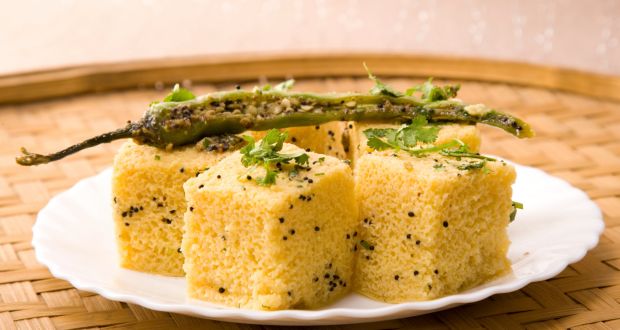 A quick and easy dhokla recipe that is delicious as well as healthy! Steamed healthy dhokla made in minutes using besan with a colorful, chili tempering.
Ingredients of Steamed Dhokla
1 Cup Gram flour (besan)
1 Tbsp Citric acid
1 Tbsp Sugar
To taste Salt
A pinch of Turmeric
To make batter Water
1 Tbsp Fruit salt/ baking powder (dissolved in water)
For the Tadka:
1 Tbsp Oil
1/2 Tbsp Mustard seeds
1 Dried red chilli
7-8 Curry leaves
How to Make Steamed Dhokla
1.

In a bowl mix gram flour, citric acid, salt, sugar and turmeric. Add water and make it into a smooth batter with medium thick consistency.

2.

In a glass make add the fruit salt or baking powder. Add water to it and pour this into the dhokla mixture.

3.

Grease the steaming tin with 2 drops of oil and por the mixture into it. Steam for about 15-20 minutes or till cooked.

4.

In a pan, add oil, mustard seeds, curry leaves and red chillies. Let it splutter.

5.

Pour the tadka over the prepared dhokla.

6.

Cut into pieces and serve.
Key Ingredients: Gram flour (besan), Citric acid, Sugar, Salt, Turmeric, Water , Fruit salt/ baking powder (dissolved in water), Oil, Mustard seeds, Dried red chilli, Curry leaves