Story Progress
Back to home
Steamed Fish with Green Chutney Recipe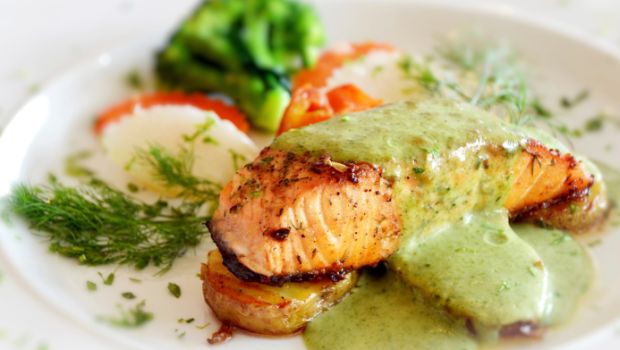 A traditional Kokani Malvani recipe. Whole fish stuffed with a peppy paste of coriander, lime, coconut and chillies. Steam delicately and serve with a drizzle of coconut oil.

Ingredients of Steamed Fish with Green Chutney
1 medium size pomfret
1 bowl freshly grated coconut
1 bowl, fresh green coriander, cut
5-6 green chillies or as per your taste
10-15 peeled and chopped garlic cloves
Fresh ginger, 2 inch chopped
1 Tbsp lime juice
Salt-as per requirement
1 tsp turmeric
2 tsp kashmiri red chilly powder
Oil for frying
1.
Clean and gut the fish, don't cut into the pieces, give 2 deep incisions on it, and cut its belly.
2.
Keep it whole. Rub salt, turmeric and red chilly powder. Smear it well. Keep the fish aside.
3.
Grind coconut, green chillies, coriander into smooth paste (chutney), add lime juice. Mix thoroughly. This is the stuffing for the fish.
4.
Place the cleaned and gutted fish on a big plate. Stuff green chutney into its belly and in the incisions thoroughly.
5.
Carefully wrap the fish in a banana leaf smeared with oil. Cover fully. You can use aluminum foil also.
6.
Boil enough water in a deep vessel or idli maker. Place the fish on a sieve and over boiling water. Make sure that the water should be boiling.
7.
Cover it and steam it for exactly 5 to 6 minutes. Don't overcook as fish is delicate and tends to crumble in case of overcooked.
8.
Take the fish out. Place it on the plate and gently uncover it. Top with some coconut oil.
9.
Note- You can use big mackerel(bangada) and big jumbo prawns as well.