Story Progress
Back to home
Stir Fried Greens Recipe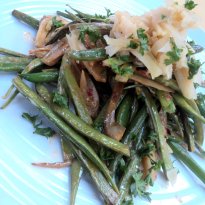 How to make Stir Fried Greens
About Stir Fried Greens Recipe: Green beans, cluster beans, lemongrass and fennel stirred in with a host of sauces and condiments, folded in with cream afterwards.

Ingredients of Stir Fried Greens
1 Fennel bulb
50 Gram Cluster beans
50 Gram Green beans
2-3 Garlic cloves, sliced
1 tsp Lemon grass, sliced
1 1/2 tsp Olive oil
1 tsp Light soy sauce
1 tsp Balsamic vinegar
1 tsp Guilin chilli paste
1 Tbsp Heavy cream
To taste Salt
To garnish Pickled ginger
To garnish Parsley , chopped
1.
Cut fennel bulb in half and remove the core.
2.
Thinly slice the fennel and put it in a bowl of chilled water.
3.
Blanch the green beans and cluster beans in boiling hot water for about a minute.
4.
Take them out and put them in a bowl of ice cold water, leave it for about a minute and drain.
5.
In a hot pan, add olive oil and sauté the chopped lemongrass and garlic for a few seconds.
6.
Add the sliced fennel, green beans and cluster beans, mix well.
7.
Add the light soy sauce, Guilin chilli sauce, balsamic vinegar and salt and toss it all together.
8.
Finally, stir in the cream and cook for half a minute.
9.
Garnish with pickled ginger and parsley and serve hot.