Story Progress
Back to home
Submarines and Mayo Recipe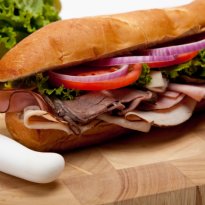 Sub packed with ham, cheese, salami and sauces served with homemade mayo.

Ingredients of Submarines and Mayo
1 cup refined oil
1 egg
2 tbsp vinegar
1/2 tsp sugar
Salt - to taste
1/4 tsp black pepper powder
1/4 tsp mustard powder or mustard oil
For Submarine Sandwich:
1 French loaf (12 inches)
3-4 tbsp mayonnaise or olive oil
4 salami slices
4 ham slices
2 cheese slices
4 thinly sliced onions
Dried oregano - to taste
Mustard sauce - to taste
Lettuce leaves (optional)
1.
Break the egg and put it in the blender.
2.
Add the vinegar, salt, pepper, mustard and sugar.
3.
Switch on the blender at full speed and simultaneously start pouring the oil in a thin stream through the small opening on top of the blender till it thickens to the required consistency.
For Subamarine Sandwiches:
1.
Slit the bread horizontally leaving it joined on one side.
2.
Spread the mayonnaise on the side or you could drizzle generous amounts of olive oil instead of mayonnaise.
3.
Arrange the ham, salami and cheese slices over this.
4.
Put the onions on top of this, spread a bit of mustard sauce and sprinkle the oregano.
5.
Fold the other half of the bread over and serve.