Story Progress
Back to home
Tabak Maas Recipe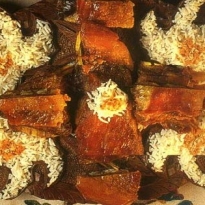 Marinated mutton ribs cooked with seasoning and milk, shallow fried in the end.

Ingredients of Tabak Maas
4-5 pieces mutton ribs
2 tsp curd
1 tsp saunf powder
2 tsp dry ginger powder paste (saunt paste)
1/4 tsp garam masala powder
4-5 whole green cardamoms
1 glass milk
3 tsp ghee
Salt - to taste
1.
In a bowl, mix the mutton ribs, curd, saunf, ginger powder paste and garam masala powder together. Leave overnight to marinate.
2.
Heat ghee in a pan and saute the mutton.
3.
Pour in the milk and stir.
4.
Add the salt and cover to cook for 10 minutes.
5.
Lightly pound green cardamoms and add it to the mutton.
6.
Cover and continue cooking till the meat is done and the liquid gets evaporated.
7.
Heat the remaining ghee in another pan and shallow fry the mutton pieces till they turn light brown in colour. Serve hot.