Story Progress
Back to home
Tandoori Chicken Sticks Recipe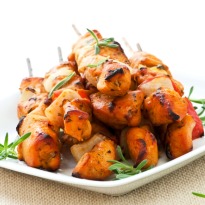 How to make Tandoori Chicken Sticks
These flavour full and glorious grilled chicken legs served with zesty coriander yogurt is the perfect starter dish for a party!

Ingredients of Tandoori Chicken Sticks
450 Gram Chicken breasts (boneless and skinless)
For the coriander yogurt:
1 cup yogurt
2 Tbsp whipping cream
1/2 cucumber-peeled, seeded and finely chopped
2 Tbsp fresh coriander-chopped
Salt and pepper
For the marinade:
3/4 cup yogurt
1 tsp garam masala
1/4 tsp cumin powder
1/4 tsp coriander powder
1/4 tsp cayenne pepper
1 tsp tomato puree
2 garlic cloves-finely chopped
Fresh ginger-finely chopped
1/2 lemon-grated rind and juice
2 Tbsp mint-chopped
Prepare the coriander yogurt
1.
Mix all the ingredients in a bowl and season. Cover and chill until ready to serve.
Prepare the marinade
1.
Add all the ingredients in a food processor and process until smooth and pour into a shallow dish.
2.
Freeze the chicken breasts for 5 minutes to make them firm and then slice in half, horizontally.
3.
Cut the slices into strips and add to the marinade. Toss it well so that it gets coated well.
4.
Cover with clear film and chill for around 4-5 hours.
5.
Once done, pre-heat the grill. Arrange the chicken pieces on a foil lined baking sheet.
6.
Cook under a hot grill for about 5- 10 minutes or until it turns brown and is cooked through, turning it once.
7.
Once done thread the grilled chicken onto cocktail sticks.
8.
Serve with the coriander yogurt.