Story Progress
Back to home
Oat Crusted Chicken Tenders Recipe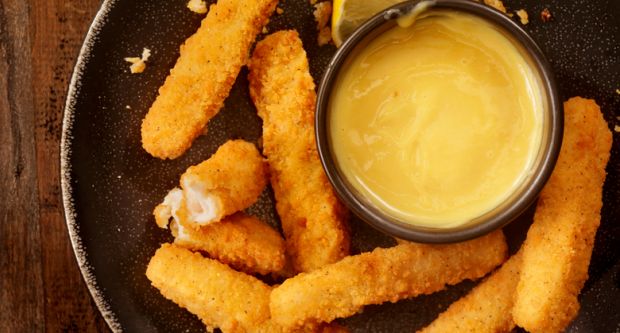 How to make Oat Crusted Chicken Tenders
NDTV Food
About Oat Crusted Chicken Tenders Recipe: This easy recipe is always a hit with kids - tender chicken smeared with a bunch of spices and fried crisp.

Ingredients of Oat Crusted Chicken Tenders
300 Gram chicken breast (cut into strips)
1/2 tsp salt
1 tbsp garlic paste
1 tbsp ginger paste
1 tbsp green chilli paste
1 cup oats
3/4 cup refined flour
1/2 tsp salt
1/2 tsp freshly ground black Pepper
1 tbsp fried mixed herbs (italian herb)
1 tsp garlic powder
1.
Place the chicken breast on a flat surface lined with cling wrap and hammer it with a meat mallet until you get equal thickness.
2.
Cut the chicken breast into 2 inch thick strips (horizontally).
3.
Place chicken strips in a mixing bowl.
4.
Add salt, ginger, garlic and green chilli paste and mix well, ensuring the marinade gets rubbed into the chicken pieces. Keep aside to marinate for 15-20 minutes.
5.
To make the oat crumb, place oats in a food processor, and process for 20 seconds or until coarsely ground. Add flour, salt, pepper, garlic powder and herbs. Pulse to make a coarse powder and spread out in an even layer in a plate.
6.
To cook chicken tenders, heat a pan and brush with oil. Take each chicken strip, dredge in oat mixture and place on the hot pan, ensuring it is completely flat.
7.
Cook until golden brown (3-5 minutes). When cooked on one side, flip over and cook on the other.