Story Progress
Back to home
Tangri Kebabs Recipe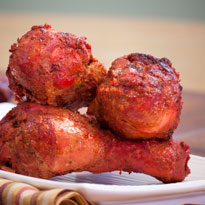 How to make Tangri Kebabs
Microwaved chicken drumsticks served with onion rings and lemon wedges.

Ingredients of Tangri Kebabs
500 Gram Chicken drumsticks
1 Cup Hung yogurt
1 tsp Ginger paste
1 tsp Garlic paste
To taste Salt
1 tsp Kashmiri chilli powder
1 tsp Garam masala
1 tsp Coriander powder
1 tsp Green chillies, chopped
1 Tbsp Coriander leaves, chopped
To serve on the side Lemon wedges and onion rings
1.
Prick the drumsticks with a fork or make slashes with a knife.
2.
Mix together with all the ingredients, except onion rings and lemon wedges.
3.
Leave marinated for 4-5 hours, or even overnight.
4.
Place an upturned saucer in a dish and arrange the drumsticks over it in a circle, with the thicker sides outwards.
5.
Cover and cook at HI for 5 minutes, turning once.
6.
Cover and cook on HI for another 3 Minutes.
7.
Uncover and cook at HI for 2 Minutes.
8.
Let it stand for 5 minutes before serving with onion rings and lemon wedges on the side.
Recipe Notes
If you have browning mode, cook it uncovered, first on HI for 6 minutes, then on grill for another 6 minutes. Cooked without oil but you can brush it with some before the last 2 minutes.