Story Progress
Back to home
Tellicherry Pepper Prawns Fry with Saboodana Papad Recipe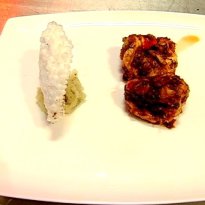 Black tiger prawns cooked with freshly crushed black Tellicherry pepper and other spices, served with mashed potato and sabodana papad.

Ingredients of Tellicherry Pepper Prawns Fry with Saboodana Papad
10 black tiger prawns (approx 1/2 kg), head & shell off
Salt to taste
1 Tbsp lemon juice
1 tsp ginger garlic paste
1 packet tempura batter mix
2 Tbsp oil
1 Tbsp ginger, chopped
3 Tbsp garlic, chopped
15 g oyster sauce (optional)
1 Tbsp Maggi bhunna masala
2 tsp black pepper powder, coarse
2 Tbsp coriander, chopped
30 g mashed potato (optional)
Chilli flakes to taste
2 saboodana papads
2 tsp garam masala
Oil for frying
How to Make Tellicherry Pepper Prawns Fry with Saboodana Papad
Hide

Show

Media
1.
Devein the prawns and give a butterfly cut.
2.
Wash thoroughly and pat dry.
3.
Marinate in half oyster sauce and half lemon juice.
4.
Add little tempura batter (2 tbsp) to the prawns.
5.
Fry in hot oil till golden.
6.
In a pan, heat oil and saute chopped ginger, garlic and bhunna masala.
7.
Add water (6 tbsp) and add salt to the remaining oyster sauce.
8.
Add crushed peppercorn and garam masala.
9.
Reduce the sauce to coating consistency.
10.
Add the crisp fried prawns and toss to coat evenly.
11.
Add chopped coriander and finish with remaining lemon juice.
12.
Add chopped coriander, salt and little black pepper to mashed potato.
14.
In serving plate, place quenelle of mashed potato and stand the fried sabodana papad on it.
15.
At the other end, stack the prawns and serve hot.