Story Progress
Back to home
Thai Green Chicken Curry Recipe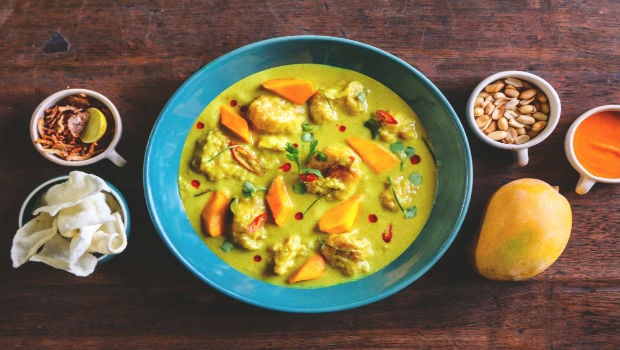 How to make Thai Green Chicken Curry
Thai Green Chicken Curry: Cooked in coconut milk and spices, the real essence of the chicken is brought out by the green curry paste.

Ingredients of Thai Green Chicken Curry
Green curry paste:
8-10 green chillies
20 gm lemon grass
15 gm onions
10 gm garlic
10 gm kha ginger
50 gm coriander roots
5 gm cumin
5 gm coriander seeds
2 makrut leaves-chopped
10 gm shrimp paste salt to taste
For the chicken curry:
100 gm chicken breast cubes
10 gm sugar
4 pea brinjal
5 bird chillies
15 gm basil
1 makrut leaves
10 ml oil
150 ml coconut milk
For the green curry paste:
1.
Grind all ingredients together to a fine paste.
For the chicken:
1.
Heat the oil and saute green curry paste.
2.
Add diced boneless chicken breast and cook further.
3.
Add coconut milk, sugar, bird chillies, salt and makrut leaves and simmer till the chicken is tender.
4.
Finally add the sweet basil leaves.
5.
Serve the green chicken curry hot with rice.