Story Progress
Back to home
The Trio of Tomatoes Recipe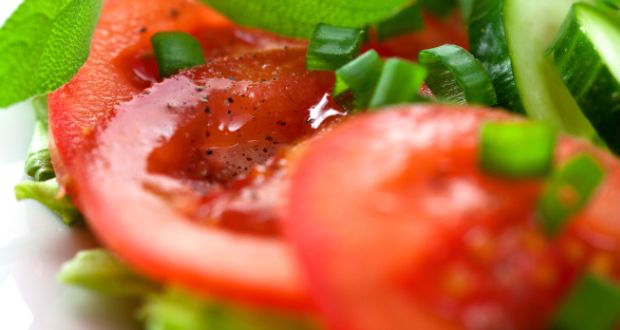 Combining roasted tomatoes in balsamic vinegar, tomato juice and cherry tomatoes with white wine to form a tri of tomatoes.
Total Cook Time

1 hr 15 mins

Ingredients of The Trio of Tomatoes
3 tomatoes, sliced
25 ml of extra virgin olive oil
Balsamic vinegar
Pinch of sea salt
1 tsp of sugar
1 tsp of coriander seeds
150 ml tomato juice
5-10 gm pepper, freshly crushed
Celery, chopped
Tabasco sauce
1 Tbsp gelatin powder
15 ml vodka
100 gm Cherry tomatoes
2-3 garlic pieces, peeled
10-15 ml white wine
Pinch of salt
5-10 lettuce/rocket leaves
2-3 slices of French bread or Ciabata
Parmesan cheese flakes
2.
Take a bowl full of sliced tomatoes. Add extra virgin oil, a pinch of sea salt, sugar and coriander seeds. Stir the mixture well.
3.
Pre-heat the oven at 120*C and roast the tomatoes for about 20 minutes on a flat oven tray. Once the tomatoes have roasted, add some balsamic vinegar and refrigerate them for a while as this salad is to be served chilled.
5.
Next, heat the pan and pour in approximately 150ml of tomato juice. Add some freshly crushed pepper to the juice along with chopped celery and a few drops of tobasco (depending on how hot you like it). Stir well.
7.
Dissolve a spoon full of gelatin in a dessert spoon full of water and heat it using the double boiler method. Do not stir the gelatin, allow it to dissolve naturally. Once dissolved and heated add about 15ml of vodka.
8.
Pour the mixture into a shot glass or a mold of your choice and refrigerate for approximately 4-5 hours.
10.
Next we will take cherry tomatoes and prick them with a toothpick. The pricking will negate any chances of the tomatoes to burst open while cooking and will allow the other flavors to seep in.
11.
Take some small peeled garlic pieces. The smaller the garlic bulb the more pungent it is.
12.
Add 2-3 pieces of peeled garlic and cherry tomatoes to the frying pan with some olive oil. Press them gently so that they may cook.
13.
Add a pinch of salt and a little white wine for braising it. Cover the pan and allow it to cook on a light flame for a little while.
To serve:
1.
Place a few of your favorite salad leaves on the plate, either lettuce or rocket leaves. Place a few slices of balsamic tomatoes straight from the refrigerator. Along with the tomato jelly, you may add a slice or two of any of your favorite breads (Ciabatta or French bread) pour cherry tomatoes on top of the bread and sprinkle thin parmesan cheese slices at the end.