Story Progress
Back to home
Tiramisu - The 'pick-me-up' cake Recipe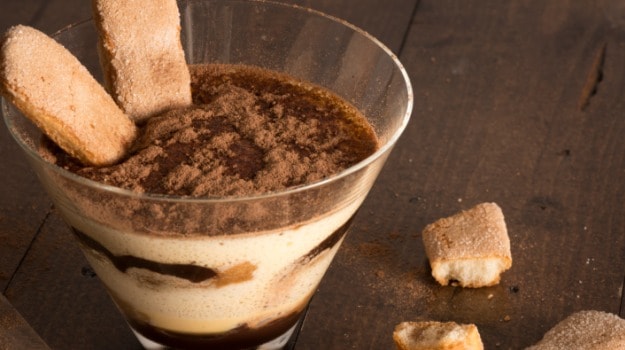 How to make Tiramisu - The 'pick-me-up' cake
About Tiramisu Recipe: The delightful tiramisu recipe with sponge fingers soaked in coffee, layered around and smeared with a creamy mascarpone mixture. Really easy to make and simply delectable to relish with family and friends!

Ingredients of Tiramisu - The 'pick-me-up' cake
2 egg yolks
2 tbsp castor sugar
250 gms mascarpone or cream cheese
175 ml strong black coffee (make the coffee with 175 ml water with 2 tbsp of coffee)
3 tbsp brandy (cognac)
150 gms sponge fingers (sponge cake cut into fingers)
A few drops of vanilla essence (optional)
cocoa powder for dusting
1.
In a bowl, beat the egg yolks and sugar together till the mixture becomes light and creamy.
2.
Add the vanilla essence and fold it into the mascarpone.
3.
To the strong black coffee add the brandy and stir.
4.
Quickly dip the sponge fingers in the coffee-brandy liqueur. Make sure the fingers soak just enough of the liqueur, but don't crumble.
5.
Arrange a layer of sponge fingers in a shallow dish and cover them with a layer of mascarpone.
6.
Create several layers of sponge fingers, followed by mascarpone. The top layer will be of mascarpone.
7.
Chill the tiramisu in the refrigerator for 3-4 hours, dust with cocoa powder and serve.