Story Progress
Back to home
Tom Zaab Gai Recipe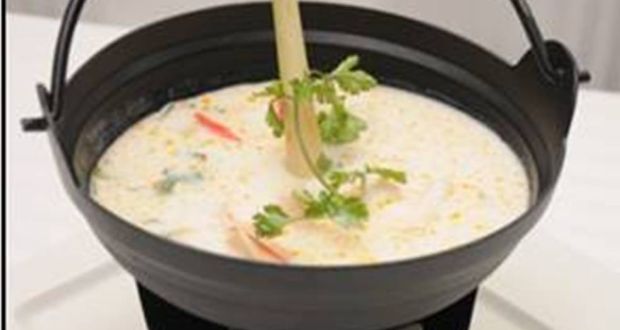 A light and lovely Thai soup with chicken and traditional aromatics like kaffir lime, lemongrass and fish sauce.

Ingredients of Tom Zaab Gai
10 gm chicken leg boneless
10 gm lemon grass
10 gm kafir lime leaf
5 ml fish sauce
10 gm red chili
20 gm lemon
5 gm mint
5 gm fresh red chili
3 gm salt
5 gm roasted sticky rice
1.
Take 100 grams of chicken thigh boneless, clean it properly and cut it into small dices and keep it aside.
2.
Take 3 pieces of kaffir lime leaf, one lemon grass stick, one fresh red chili and clean it properly, cut in to small slices and keep it aside.
3.
Take a soup pan and add two cups of stock, bring it to boil and then add chicken, lemon grass, kaffir lime leaf and fresh red chili .
4.
Bring it to boil for 3 minutes. Add fish sauce and lemon juice. Add seasoning as per the taste.
5.
Serve in a bowl, garnish it with mint leaf and roasted sticky rice.