Story Progress
Back to home
Tomato Papeta Par Eeda Recipe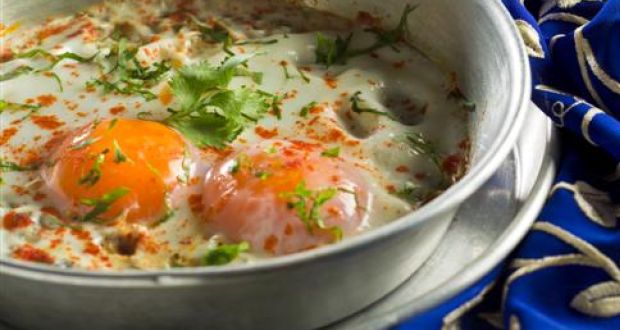 Tomato Pateta Par Eeda is a parsi-style egg dish which can be had as a part of any meal, any time of the day! A classic recipe where eggs are baked with a tangy tomato sauce and potato slices.

Ingredients of Tomato Papeta Par Eeda
2 eggs
1 Tbsp oil
2 onions finely chopped
1 green chilli chopped
1 tsp ginger garlic paste
2 ripe tomatoes chopped
1 Tbsp chopped coriander
1/2 tsp haldi powder
1/2 tsp red chilli powder
1/2 tsp parsi Sambhar masala
Salt to taste
1 tsp kolah vinegar,
1 potato thinly sliced, and parboiled
1.
In a frying pan, add the oil and onion and saute till brown.
2.
Add green chilli, ginger garlic and saute further Add the dry masalas and cook well. Add the chopped.tomatoes and continue cooking.
3.
Once the rawness of the tomatoes and masalas is cooked add the chopped coriander and cook further.
4.
Add salt, then the kolah vinegar to finish. It should be a spicy sour masala.
5.
Once this masala is ready, apply on the base of an oven proof dish, and put the slices of potatoes. Add a teaspoon of butter and crack two eggs on the masala potato mixture.
6.
Sprinkle salt and red chilli powder and bake.
7.
Cook till the white is cooked and the yellow just runny (sunny side up). Garnish with chopped coriander and serve hot buttered pav alongside.