Story Progress
Back to home
Torai ki Sabzi Recipe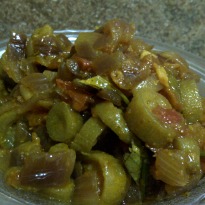 How to make Torai ki Sabzi
Torai cooked in a variety of spices.

Ingredients of Torai ki Sabzi
3/4 kg torai
2 Tbsp clarified butter
1/8 tsp asafoetida
1 tsp cumin seeds
1 tsp finely chopped ginger
1/2 tsp chilli powder
2 tsp coriander powder
1/4 tsp salt to taste
1/2 tsp garam masala
1/2 tsp mango powder
1 Tbsp sugar
Coriander powder- to garnish
1.
Peel and chop the vegetables into pieces about 1 cm thick.
2.
Discard hard seeds if any.
3.
Place the chopped vegetable in water till ready to use.
4.
Heat the clarified butter in a kadahi and add the asafoetida and the cumin seeds.
5.
As the seeds splutter, add the ginger; saute a little and add the chopped snake gourd; stir-fry over high heat till it looks glossy.
6.
Add the chilli powder, coriander powder, salt, garam masala, mango powder and sugar and mix well and lower the heat.
7.
Cover and simmer till cooked, stirring a few times to avoid scorching.
8.
You may need to add a little water if it sticks to the pan.
9.
When soft and cooked through, serve garnished with fresh coriander leaves.