Story Progress
Back to home
Vegan Almond Milk Recipe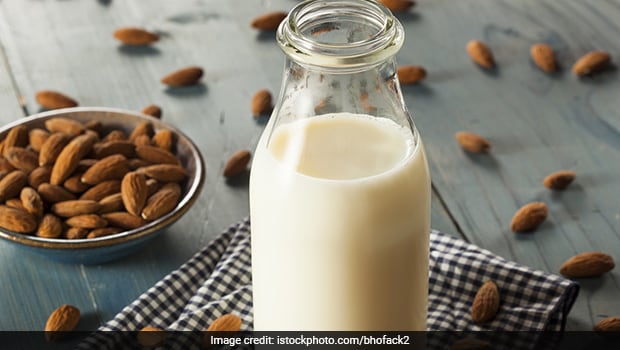 How to make Vegan Almond Milk
About Vegan Almond Milk recipe | Badaam Milk: A vegan dish is something that is free from any dairy or animal product. A vegan almond milk is therefore made from soya milk which is just as good as any almond milk made from the dairy products.Almonds, poppy seeds and cardamom makes for enhanced frothy milk.
Ingredients of Vegan Almond Milk recipe | Badaam Milk recipe: This almond milk recipe is made of soya milk that is a great substitute of cow's milk for people who are lactose intolerant and follow a vegan diet. Almonds, poppy seeds and cardamom adds the desired flavour and nutty bit to the Badaam milk.
Best Way to Enjoy Vegan Almond Milk | How to Serve Vegan Badaam Milk: The best way to have the almond milk is to have it with the breakfast that will give you the maximum benefit and a great start to your day. This recipe of vegan almond milk can also be made during the fasting period since all the ingredients can be consumed during Vrat or fast.
Benefits of Vegan Almond Milk (Badaam Milk): Apart from being vegan, this almond milk recipe is lighter with less cholesterol and more calcium than even cow's milk. Despite having soya milk it has as much protein and is a great source of Vitamin D and calcium.

Ingredients of Vegan Almond Milk
2 Cups Soya milk
1 Tbsp Almonds
1 tsp Poppy seeds
2 Tbsp Sugar
1/4 tsp Cardamom powder
1.
Soak almonds for about three hours.
2.
Place almonds in a small pan and add boiling water to the pan.
3.
Keep aside for five minutes and drain the water.
4.
Soak poppy seeds for two hours.
5.
Peel almonds and grind them with poppy seeds into a fine paste.
6.
Add the paste to cold soya milk and strain through a muslin cloth. Discard the residue.
7.
Add sugar and cardamom powder to the strained soy milk.
8.
Blend till frothy and serve warm or chilled.
Recipe Notes
We have used soya milk in order to keep the drink vegan. You can use normal cow milk if you are not a vegan.
Also know about almonds benefits.
Learn what other recipes you can cook from milk.