Story Progress
Back to home
Vegan Gajar ka Halwa Recipe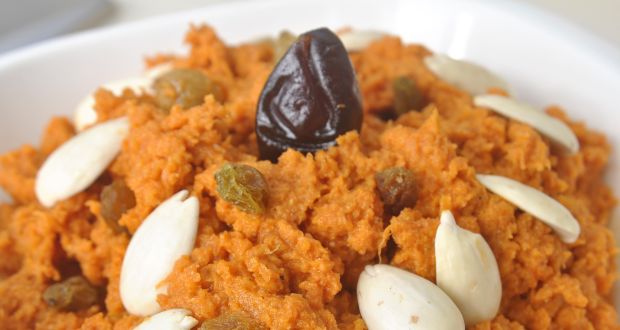 How to make Vegan Gajar ka Halwa
About Vegan Gajar ka Halwa Recipe: One dessert most people look forward to in the winter months is gajar ka halwa. Who would have thought that this indulgent dessert, traditionally laden with clarified butter and solidified and evaporated milk could be adapted to a dairy free version that tastes just as delectable? Here's for you the vegan version of 'gajar ka halwa' made with fresh almond milk.
Total Cook Time

1 hr 30 mins

Ingredients of Vegan Gajar ka Halwa
1 Kg carrots, grated
1 litre almond milk
8 Green cardamom pods
to taste date paste
1-2 tbsp cashew nut paste (optional)
7-8 Raisins
for garnishing almonds, blanched
For the almond milk:
1 cup almonds
1 litre warm-hot water
Prepare the almond milk:
1.
Place almonds to soak in water. You can pre-soak the almonds for four hours in cold water or use hot water.
2.
Peel the soaked almonds if you like.
3.
Place the almonds and water into a blender.
4.
Sieve through a fine mesh cloth and squeeze out all the milk.
Prepare the date paste:
1.
Soak as many dates as you would like in water.
2.
Put them in a container with a lid and let them sit in the refrigerator for a few hours. Drain off and reserve the soaking liquid.
3.
Place dates and a little of the soaking liquid in a blender or food processor and blend until smooth and consistent, adding soaking water if necessary.
4.
Date paste will last in your refrigerator for weeks, and can be used as a replacement for sweetener in a recipe.
Prepare the halwa:
1.
In a stainless steel heavy bottom pan add grated carrots.
2.
Pour the almond milk into the carrots, add cardamom pods and cook until all liquid has reduced. This will take about 30 - 40 minutes.
3.
Add date paste. Stir occasionally.
4.
Add cashew nut paste if using.
5.
Add raisins, top with almonds.