Story Progress
Back to home
Victoria Sponge with Plum Jam Recipe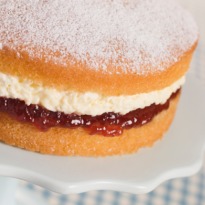 How to make Victoria Sponge with Plum Jam
The Victoria sponge cake is named after Queen Victoria, who liked having a slice of sponge cake with her afternoon tea. A Victoria cake is a sponge cake layered with jam and cream.

Ingredients of Victoria Sponge with Plum Jam
200 gm butter
200 gm castor sugar
4 eggs
200 gm flour
2 tsp baking powder
For the Plum Jam:
2 kg plums - halved and stoned
4 sweet limes, grated rind and juice
300 ml water
2 kg grain sugar
Cream (optional, for layering)
1.
Cream butter and sugar together until light and fluffy.
2.
Gradually add beaten eggs, beating the mixture well between each addition.
3.
Fold in sieved flour and baking powder.
4.
Spoon into greased and lined 9"round tin. Bake at 180 degrees C for about 25 minutes or until golden in color. Remove from oven.
5.
Cool slightly before turning out.
6.
When cool, split in half and fill with jam and cream.
To make Jam:
1.
Roughly chop plums and place them in a large pan with the rind, juice and water.
2.
Bring to a boil and simmer for 15 minutes.
3.
Add sugar, while on the heat.
5.
Bring to a fast boil and cook until setting point is reached.
6.
Leave to cool and use to fill the cake.