Story Progress
Back to home
Warm Mushroom Salad Recipe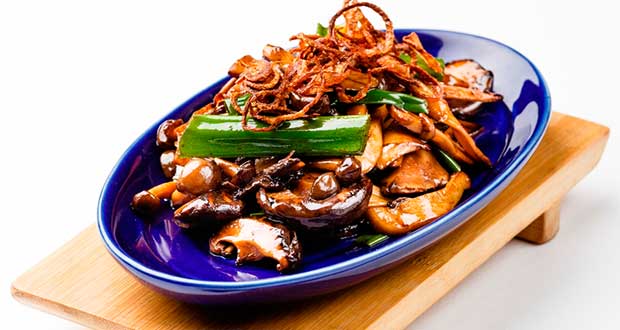 The out of the box contrast of warm sautéed mushrooms with fried onions brings sophistication to this terrific salad. Made with truffle oil, this great dish develops amazing flavors when cooked with soy sauce.

Ingredients of Warm Mushroom Salad
50 gm fresh cepe mushroom
50 gm fresh shitake mushroom
10 gm fresh button mushroom
20 gm fresh shimji mushroom
1 fried onion
2 ml truffle oil
Salt as per taste
1 tsp dark soy
1 tsp light soy
1/2 tsp spring onion
10 ml oil
1.
1. Soak the entire mushroom for 2 hours, and then slice all of them.
2.
2. Add mushroom in wok and toss them until it becomes dry.
3.
3. Add oil in wok along with fresh dry mushroom, light soy, dark soy, and salt, toss it for a while.
4.
4. At last add spring onion, and truffle oil.
5.
5. Garnish with fried onion.