Story Progress
Back to home
Zucchini and Cream Cheese Rolls Recipe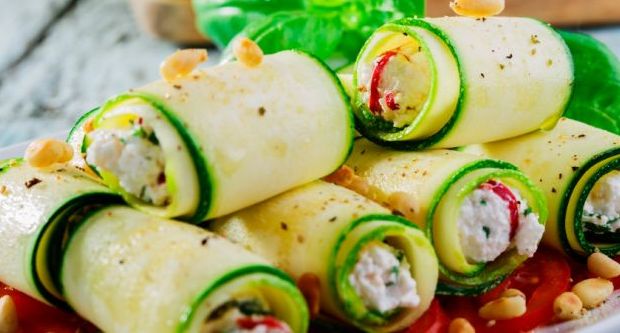 How to make Zucchini and Cream Cheese Rolls
Zucchini slices are stuffed with the freshness of carrots, celery, cream and cheese.

Ingredients of Zucchini and Cream Cheese Rolls
1 medium green zucchini, sliced vertically
1 medium yellow zucchini, sliced vertically
1 cup cream cheese
Extra virgin olive oil for grilling
Crushed black peppercorns to taste
Salt to taste
1 tsp finely chopped celery
1 medium carrot, chopped
4-5 fresh basil leaves
Fresh parsley leaves for garnishing
1.
Heat olive oil in a non-stick grill pan.
2.
Place zucchini slices on it.
3.
Sprinkle crushed peppercorns and salt on top.
4.
Grill evenly till they become tender.
5.
Combine cream cheese, celery, carrot, salt and crushed peppercorns in a bowl, mix well.
6.
Add finely shred basil leaves, mix well.
7.
Place grilled zucchini slices on a worktop.
8.
Put a portion of the cream cheese mixture at one end and roll gently.
9.
Garnish each roll with parsley and serve.