Story Progress
Back to home
Zucchini Hummus Recipe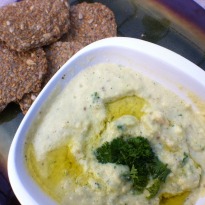 Who would have thought that hummus could be made without chickpeas? Reshma Khattar Bhagat shows you how to make a healthy zucchini hummus.

Ingredients of Zucchini Hummus
1 zucchini, peeled and chopped
1/2 cup soaked almonds, peeled
3 Tbsp lemon juice
1 Tbsp onion powder
2 Tbsp garlic, minced
1 Tbsp cumin
3-4 Tbsp tahini
Rock salt, to taste
Pepper, to taste
3 Tbsp olive oil
1/4 cup parsley
1.
Combine zucchini, almonds, lemon juice, garlic, onion powder, cumin, tahini, salt and pepper in the food processor till smooth.
2.
Add olive oil and pulse it again.
3.
Now add the parsley in the end and finish with a quick pulse.
4.
Garnish with some parsley.