My first South Indian meal was a disaster and this albeit attending enough and more weddings where the constant flow of food would overwhelm anyone. Of course, after battling through quite a few courses, all of which were vegetarian, I was also informed never to refer to that meal as 'South Indian'. It was a hardcore Andhra lunch from a restaurant famous for its lunch meals. And that is where I had my first run-in with 'gunpowder'. And to be honest, I hated it. I didn't know why people were fussing over blended ingredients, and calling it a condiment. That was more than 12 years ago.(
From Kewra to Kalpasi: The Hidden Gems of Indian Spices
)
Today, I devour having gunpowder/chutney podi/pudi with hot rice and dosas, along with a generous pour of ghee of course.(10 Best South Indian Recipes)
It was only over time I realised that there are as many varieties of podi/pudi as one could care to come up with. Some of the traditional recipes don't vary much from state to state, but there are always a few tweaks here and there. While most people head to a local store to buy packaged version of the podi, it's the home-made ones that win brownie points - especially because of the trouble taken to make it.
(Essential spices to improve dish's flavour)
Podi - in the Making
In Karnataka, the standard chutney pudi requires urad dal, chana dal, toor dal, grated coconut, dried red chillies (Guntur and Byadgi), curry leaves, tamarind, jaggery, and salt. It's also seasoned with mustard seeds, turmeric, asafoetida (hing), and some oil.
Author Gita Aravamudan says that her household uses mostly two different kinds of chutney podi. "One of them is made with peanuts, dried chill, and garlic. We dry roast all the ingredients together in a wok, cool it down, add a little salt and grind it." This recipe was given to her by a Maharashtrian friend, and can also double up as a masala in an emergency, she adds.
A typical Tamil podi requires chana dal, urad dal, peanuts, and some kopra (dried coconut), a little bit of sugar, curry leaves, tamarind, dried red chillies, and a pinch of asafoetida. All the ingredients are dry roasted (some might add a bit of oil), and powdered together. "My cook, who usually makes this chutney powder adds a bit of tamarind to the mix, but that's not how I would make it," Aravamudan says.
Most of these podis are made into a paste by adding oil (sesame, ground nut), and eaten with dosas, idlis, or rice. There are plenty of other kinds of podis one can make especially to mix it with rice. For instance, the one with curry leaves, or one that uses fresh coriander leaves, green chillies and urad dal, but that's not quite staple.
(Recipe: Maharashtrian Goda Masala)
IT Consultant Sukanth Rallapati can probably be labelled as a podi addict. "I make different kinds of chutney podis, but my favourite is the one with peanuts. It's a pretty standard recipe, except for a few tweaks. It has peanuts, red chilli powder, garlic, and salt. Now I don't roast the garlic, but keep it fresh. It adds a lovely pungency to the powder. This goes well with rotis or hot rice, and I have it with gingelly (sesame) oil. I also refrigerate it so that it lasts longer, given that it's fresh garlic that I am using," he says.
Another variety from the Rallapati kitchen is made with kopra (dried coconut), methi seeds (fenugreek), dhaniya seeds (coriander), dry red chillies, garlic, and salt. "I also make another variety with chana dal, methi seeds, red chillies, whole cumin (jeera), and urad dal. I toast them first, add turmeric powder and salt, and then grind."
(10 Best Indian Chutney Recipes)
"Chutney pudi is comfort food for most South Indians, and if it's not available we might even suffer from withdrawal," Rallapati comments.
The Homely Touch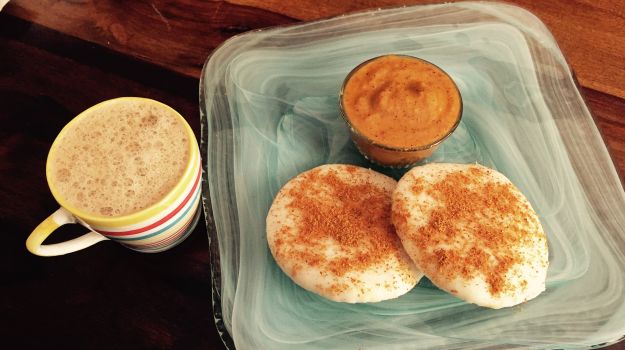 Restaurateur Geetha Krishnan says that she never liked eating podi in the beginning, but thanks to her family she has gotten used to it, and even enjoys it. Her favourite recipe is borrowed from her grandmother, and comes from a Palakkad Iyer home. It's slightly long drawn, and Krishnan tells that she doesn't use specific measurements, relying on her eyes for it. This one requires chana dal, a little bit of urad dal, Byadgi red chillies, a good measure of whole cumin seeds, a little bit of coriander seeds, curry leaves, and about six cloves of garlic. All the ingredients are dry roasted separately, and then ground. "I might also use a little bit of fresh tamarind, or dry mango powder if tamarind is not available," she says. The original recipe did not require garlic, but was later added by Krishnan.
In her family, this chutney powder is mostly mixed with olive oil, "but we also add groundnut oil, and eat it with dosas," she adds. This podi also makes for a good seasoning when teamed with roasted or fried potatoes, raw bananas etc, and in fact adds to the flavour. This podi is stored in an airtight glass container and has a shelf life of about two to three weeks.
(
10 Best Kerala Recipes
)
Kerala also has its share of chutney pudi, again had with dosas, idlis or rice. Another popular idli pudi from Kerala is the simplest of them all. Shared with us by homemaker Lekha Prabhakaran, this podi requires: 250gm urad dal, 100gm chana dal, 30 dry red chillies, 1 teaspoon of asafoetida and 10 garlic pods. To make the podi, clean the garlic by removing the skin properly, and dry roast it. Separately, dry roast the urad dal, and chana dal till it turns brown. Once all the ingredients are roasted, powder it finely.(10 Best Andhra Recipes)
The famous kandi podi from Andhra Pradesh or 'gunpowder' is made with equal measures (about half a cup each) of toor dal, moong dal, and chana dal, 10 red chillies, and one teaspoon of cumin seeds. All the ingredients are again dry roasted separately, and brought down to room temperature. Once cooled, it's ground coarsely so that the textures of each of the ingredients remain distinct. It's best served with a pouring of hot ghee atop steamed rice.
(10 Best Dal Recipes)How to Use PodiGunpowder is normally eaten with rice and ghee. If it's used with dosas and idlies, it's usually mixed with oil. It can also be eaten with rotis and chapatis too. Chutney podi/pudi can be eaten with all of the above, and is used to tweak dishes as well. For instance, if you're making tawa vegetables, you can sprinkle podi made with peanuts over it for added flavour. Some people even eat it on toast, smearing a bit of ghee and sprinkling some sugar along with it.Another way to use gunpowder/chutney podi is to add it into upma (made with semolina or even shredded bread) for flavour and added spice. Another variety is to toss idlis (mini or regular, but broken into smaller chunks) in a wok with some hot oil or ghee (a personal choice), and then add in some podi and mix gently to coat the idlis well. It's a great snack.
How to Store Chutney Powder
If you're making chutney powder at home, remember that while you don't have to refrigerate most of them, it's important that you store them in an airtight container. And avoid using plastic.(What Should You do With All Your Old Spices?)
Recipe for Telugu-style Podi: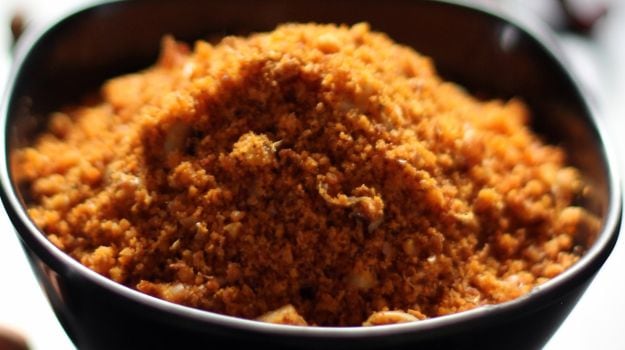 Ingredients:
250gm chana dal
250gm toor dal
6-8 red chillies
1 Tbsp Putana (roasted Bengal gram)
1 t Tbsp coriander seeds
1 tsp whole jeera
1 Tbsp black sesame seeds
Method
1. Dry roast all the ingredients separately. Bring it down to room temperature, and powder.
2. Serve with ghee or oil.
Disclaimer:
The opinions expressed within this article are the personal opinions of the author. NDTV is not responsible for the accuracy, completeness, suitability, or validity of any information on this article. All information is provided on an as-is basis. The information, facts or opinions appearing in the article do not reflect the views of NDTV and NDTV does not assume any responsibility or liability for the same.