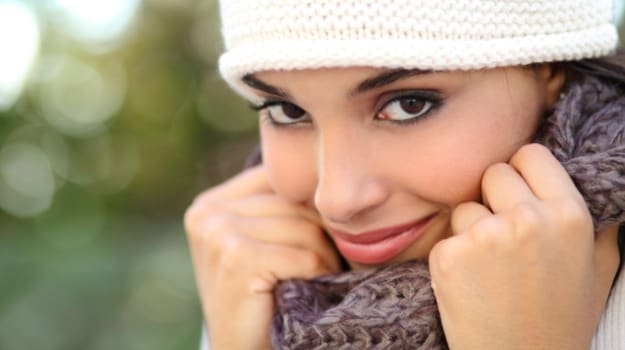 Treat dry winter skin with home-made face packs and simple every day tips.
Winter brings with is a fresh nip in the air, a yearning for hot cappuccinos, piping broths, warm liquor, soft woolies and long cozy winter evenings. But winter also welcomes stretchy skin, mild skin peeling and sharp lines on the skin that seem to increase each day. Skin often tends to look dull and the really troublesome areas are elbows, knees and painfully cracked heels that never seem to heal, even with the most trusted creams.
So many women crib about the fact that there is no magical wand that can transform their pale complexion and dull skin to soft, supple glowing skin that radiates naturally. To get flawless and gorgeous winter skin, it's important that you maintain the perfect balance of do's and don'ts.
What to Avoid
While there are many health related factors that determine good skin, there are some external factors you must be careful of and avoid.
Heating - Yes, heaters and blowers make your toes feel cozy but it's important that you don't sit next to one for too long as it will dry your skin. Keep the heater on for short intervals at home and in case you happen to be working in a centrally air-conditioned office, step out for a brisk 5 minute walk and get some fresh air a few times a day. You'll be surprised how much good it can do to your skin.
Sun - UV rays are extremely damaging and can dry the skin easily. I've seen many women in winters sunbathe for hours! Be sure that you're not facing the sun and always have your back to it. And if you have to be outdoors, try to massage a few drops of sesame seed oil all over face and neck. Also, always wear sunglasses.
Hot Water Baths - Bathing in hot water is common practice in the winter as it keeps the chill away. But not many people know how harmful it is and how quickly it dries out the skin. Always bathe with warm water and try to slap on some light fragrant oil afterwards or add it to your bath water.
Bleaching - I've seen this never-ending urge for women to look fairer and it seems that the quickest and most disastrous way they have discovered is by applying a terrible chemical concentrate known as bleach. Not only does it damage the skin but also dries it of natural oils, very often leading to skin peeling and burns. So try and avoid this completely.
Make-up - If you have been using moisture free make-up, now is the time to change for even the oiliest of skins start to feel the winter dryness setting in especially around the cheeks and lips areas. Avoid compact powders and dab on a little moisturizer before applying make-up to the skin.
How to Treat Winter-Dry Skin
Most dressing shelves are stacked with nourishing creams and moisturizers that promise great skin. But have you ever stopped to wonder why one needs to use something that is chemically or synthetically preserved. I believe healthy skin is 'in' and you should treat it naturally! There are a number of powerful natural oil-giving moisturizers and nourishers one can create right at home and believe me, the effects are absolutely stunning.(Also read: Natural remedies for hair and skin)
Honey, milk, fresh cream, yogurt, almonds, pistachios, walnuts, figs, raisins, milk powder, avocados, bananas and natural oils all provide nourishment to the skin. In fact I would think it more appropriate to call them 'skin foods'. Here are three fabulous natural nourishing packs for skins in winter:
Oily Skin
Those with oily skin are perhaps the luckiest and suffer the least in winters. They can have a few traces of dry skin though. Dry patches are felt more around the eyes, forehead and lips. So clean the face with rose water and massage it with honey to which you have added two drops of wither clove oil or peppermint oil. Now try this fabulous face recipe:Ingredients:
10 powdered almonds
1 tps rice powder
Kaolin clay
Milk
Lemon juice
A pinch of turmeric powder
2 tsp sandalwood powder
Mix all the ingredients and apply a thick layer of it all over the face and neck. When it is dry, dab it and scrub it off with milk in gentle circulatory movements. Splash face with cold water and pat dry.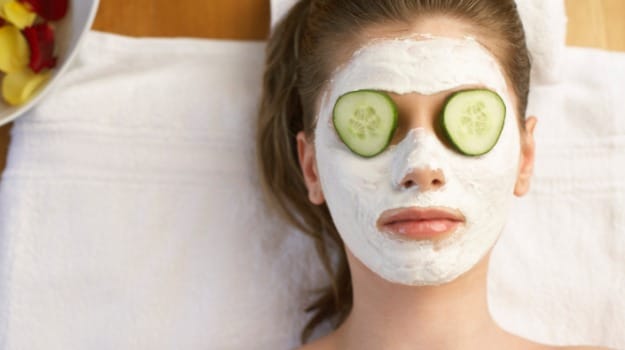 Identify your skin type and pick your pack to get winter-friendly, fabulous skin.
Combination Skin
Those who have both dry and oily skin are said to have combination skin. And people with combination skin struggle the most. Their nose, forehead and chin are not so dry while the cheeks and eye area is very patchy. Clean your face with cotton wool dipped in cold milk. Now massage your face with olive oil and the juice of one orange. After a light massage apply the following face pack:
Ingredients:
1 mashed avocado
2 tps honey
Lemon juice
Fullers earth
10 powdered pistachios
2 tsp milk powder
Mix all the ingredients in milk and apply all over face and neck. Leave on for about 20-30 minutes and wash off with cold milk and then lukewarm water. (Honey, the skin saviour)
Dry Skin
This is the most troublesome and needs some real pampering. Clean your face with milk and massage with the combination of three powerful natural oils - almond, sesame and sandalwood oil. After the massage, apply the following pack:
Ingredients
10 mashed figs
2 tsp cream
2 tsp powdered almonds
2 tsppowdered walnuts
2 tsp powdered pista
Half a mashed banana
1 egg
Apply a thick layer on the face and neck and leave it on for about half an hour.
All these skin treatments should be ideally done twice a week for effective results. I have often been asked whether these face packs are harmful for the skin and have always had responded with a question instead. "Is bathing in hot water or a hot oil massage bad for the skin?" Just like our bodies require cleansing and moisturizing, so do our faces and none of these wonderful natural moisturizers have any damaging or harmful effects on the skin. (How to treat acne-prone skin)
A Hot Oil Massage
An ideal way of pampering the body would be to give it a relaxing hot oil massage. You can also set the mood for the evening with fragrant potpourri and aromatic candles. Combine oils like sandalwood, geranium, lavender, sesame and almond and ease out that stress. Make your skin smile. Be sure to disconnect the doorbell, throw the cat out for the evening and get rid of the phone. Put on some instrumental music and you're all set.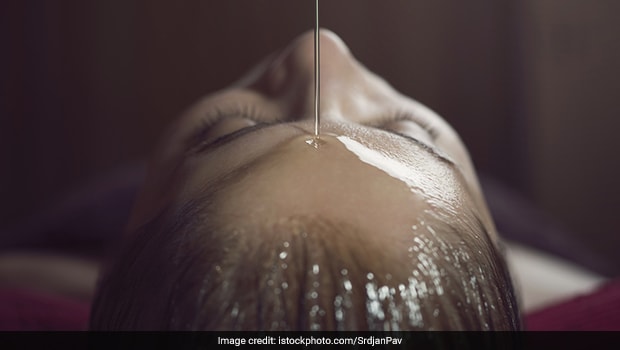 A hot oil massage is that much needed pampering that can soothe your mind and body in just a while.
Pamper Your Hands and Feet
The best time to pamper your hands and feet is in the evening. Pour some hot water in a tub, add half a cup of sesame seed oil and two tablespoons of honey. Soak your hands and feet for about fifteen minutes. Massage gently with a pumice stone or luffa and then lather up some fresh cream powder, sugar and lemon juice. Keep massaging until all the sugar granules have melted and wash with warm water. Now massage with almond oil and leave on for the rest of the night. When you wake up in the morning your hands and feet will feel as soft as a petal. It would also be a good idea to go in for a regular pedicure and manicure once a week, especially if you're down with winter blues and you need that extra bit of pampering.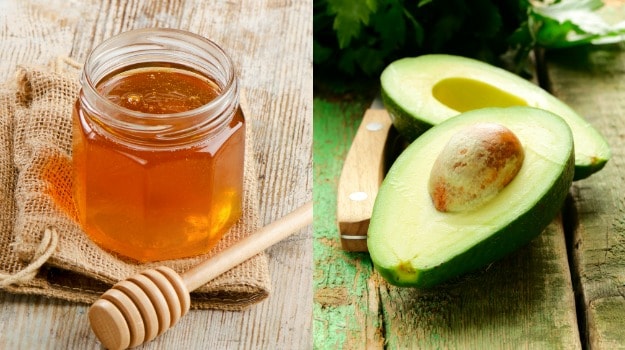 Some kitchen ingredients can give you smooth, healthy and glowing skin.
Food That Is Good for Your Skin
Even the food that you'll eat will affect the quality of your skin. So put more emphasis on dairy products, figs, raisins, dry fruits, lean meats, thick broths and lots of green vegetables. Also indulge in those wonderful winter apples and oranges to take in your natural dose of Vitamin C. (Eat Avocados for glowing skin)
(Also read: 6 diet tips for youthful skin)
Now that you've got a natural winter care program all set out for you, it would be a great idea to check your kitchen shelves and stock up some of these wonderful natural skin foods that will make your skin healthy and soft throughout the winter!
Disclaimer:
The opinions expressed within this article are the personal opinions of the author. NDTV is not responsible for the accuracy, completeness, suitability, or validity of any information on this article. All information is provided on an as-is basis. The information, facts or opinions appearing in the article do not reflect the views of NDTV and NDTV does not assume any responsibility or liability for the same.