We often forget the little things in life in order to get the bigger issues resolved, particularly when it comes to taking care of yourself. Many a time, all our health and beauty related woes can just be taken care of by paying heed to some of the most basic things, but most of us take them for granted. It is important to note that your religious morning run or constant abstinence from smoking and alcohol may not serve any purpose if your basic diet and sleep isn't at place. So, we're here to talk about
one of the most important components of our personality
and a very basic regime associated with it.
Hair Wash: The Basic of Your Basic Hair-Care Regime
Whether you are a guy or a girl, you can wear your hair in so many different ways - new styles, cut and what not! You often blame those cosmetic add-ons, pollution and many other things for hair fall and damage, but little do we know that the manner in which you are taking care of your hair could also wreak havoc if not done right, thus hampering your personal hair care regime..
This piece sets out to explain how important the basic activity of hair wash is. You will be surprised to learn that while cleansing and shampooing, you could actually damage your hair roots, follicles and hair strength. Hair wash is methodical; it should be performed with utmost care keeping some crucial points in mind. Just so that you realise the efficacy of a proper hair wash, we bring you the dos and don'ts of hair washing along with some other essential hair care tips.(Paraben-free, herbal shampoos are available at SmartCooky)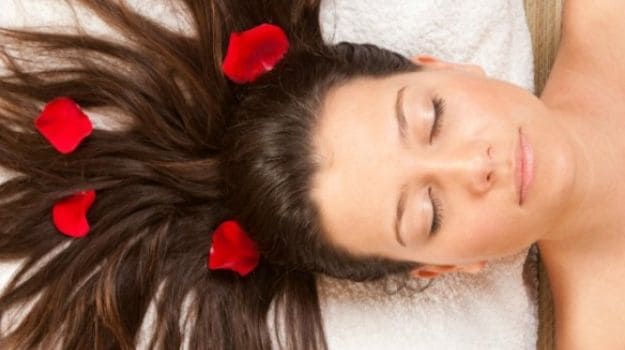 Lovely locks add so much to our personality(Go Natural: 7 Home Remedies for Quick Hair Growth)
#1 Remove styling products
Always remember to take any styling products out of your hair before you begin to shampoo, the best would be too gently comb your hair. If needed, apply a nourishing cream or a gentle conditioning cream to your hair before washing in case your hair has undergone temporary treatments like curling, perming, ironing or the like.
#2 Rinse with lukewarm water
It is a common perception that hot water is bad for hair health - which is true. Not many would know that giving a preliminary rinse with lukewarm water can actually do good to your hair and scalp. According to experts, when you dampen your hair with lukewarm water, it facilitates opening of pores and also makes it easier to remove clogged dirt out of your scalp and hair. Your cuticles absorb nutrients better from your conditioner this way.
#3 Pre-conditioning for long hair
Experts suggest applying conditioner before shampooing in case you have hair longer than the shoulder level. Long hair needs extra care, as they tend to get damaged and bear split-ends more frequently as compared to short or medium length hair. Applying conditioner will provide that extra nourishment to your hair. Always remember; never apply conditioner to your scalp but only along the length of your hair, preferably an inch or two away from your scalp.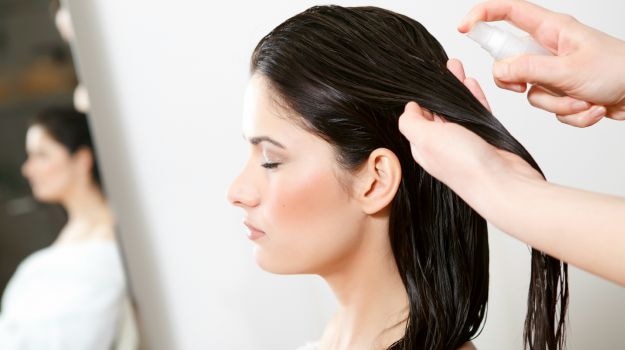 Pre-conditioning eases dryness in long hair#4 Lather Time
Take small amount of shampoo and work it up to lather. Start from the scalp and gently move on to the body straight down to the tip. Never overdo shampooing; it can strip your scalp and hair off essential oils and nutrients. Also, use your fingertips (never nails) to clean your scalp.
#5 Rinse - condition - rinse
You can now wash your hair with lukewarm water. Make sure the water isn't hot but mildly warm - tepid. Gently squeeze away extra water from your hair, give a break of a minute, apply conditioner, leave on for a few minutes and rinse again. Once the conditioner is out of your hair, and you see clear water running, you can finally rinse your hair with cold water. This is ensures locking in all the nourishment in your hail and scalp and closing the pores and cuticles.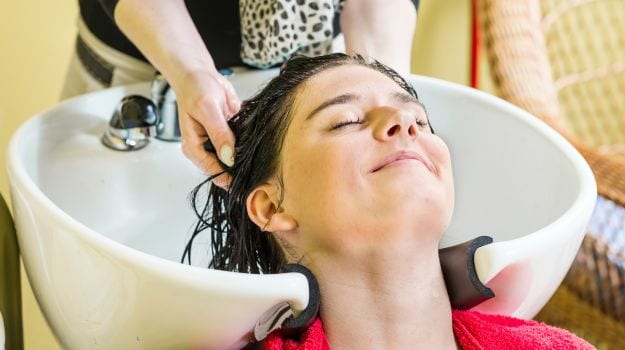 Apply conditioner only when your hair is free from shampoo#6 Let it dry
The best will be to take a towel and wrap it around your head. A towel will soak all the extra water. Never rub towel on your roots or on your hair. Wet hair is very sensitive; hence it needs to dry on its own. You can use hand dryer but only occasionally not on a regular basis. Once your hair is relatively dry, you can apply a hair-nourishing serum along the length of your hair - barring the scalp and roots.
(Combat Itchy Scalp, Hair Fall With Homemade Remedies)Expert Speaks
According a leading Beauty Expert and Dermatologist, Dr. Deepali Bhardwaj, "If you have an oily scalp, washing 3/4 times a week is important but if your scalp is dry then washing twice a week is fine too. But again, if one is travelling and if weather is humid, these factors can change. You must always use shampoos which are meant for your hair type." "Shampooing is a 10-15 minute ritual. You must let water pass upside down from hair to remove all dust, dirt and grime. Shampoo should be applied and kept for 5 minutes and then rinsed off from hair. If one has to use a conditioner then this is the right time to apply the same and wash off after few minutes. It is best to sun dry wet hair, otherwise using a hand held hair dryer with a diffuser is also a good option," added Dr. Bhardwaj.What else to keep in mind?
Just before you jump to any conclusions, ask yourself if you have been drinking enough water and including fruits, vegetables, nuts, seeds, cereals, dairy and other essential ingredients in your daily diet. If you smoke and drink on a regular basis, it will have adverse effects on your hair and skin as well. Keep a check on your caffeine intake. Apart from these, the following points are also crucial for your hair health.- Understand your hair type. Go to a professional if need be and find out if you have a combination scalp, an oily one or the one that is prone to dryness.- Accordingly choose your hair products. Many people do not choose the correct shampoo and conditioner type for themselves.- Never wash your hair daily; experts suggest washing hair at least thrice a week and oiling at least two times a week.- Do not ignore dandruff. Use an anti-dandruff shampoo and alternate it with you regular shampoo till dandruff persists.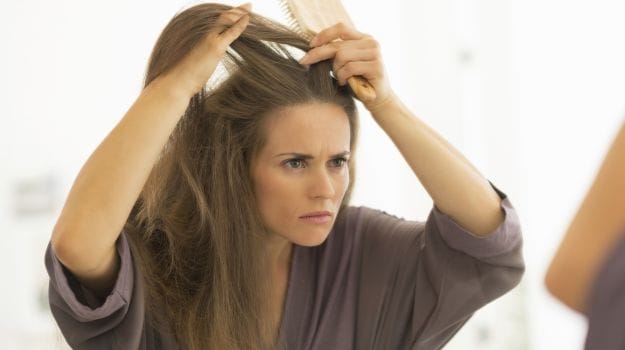 Tackling dandruff is crucial- Do not switch between brands. Using different brands may show you different results but can also damage your hair.- Oiling is one of the easiest and most natural ways for your hair and scalp to let the goodness of nature seep in. Conditioning is also extremely important hence you should condition every time you wash your hair.- Do not over-shampoo or over condition your hair.- Say no to hot showers (for hair)Last but not the least, go beyond cosmetic products and be natural. You can go for hair spa once in a while or can also arrange a DIY hair spa at home. Natural ingredients like curd, vinegar, heena, coconut oil, amla, fruits, egg whites and many other items can work wonders when applied on your hair as wraps or masks.
(5 Foods that Promote Hair Growth)
Coconut Milk and Lemon Mask for Hair Fall by renowned beauty expert Blossom Kochhar
Mix thoroughly 1-2 tablespoons coconut milk, 1 tablespoon of milk powder and juice of half a lemon with 2 drops lavender essential oil. Apply it on hair, and cover with a shower cap. Keep it on for 15-20 minutes. Then shampoo with a natural shampoo and apply a protein conditioner if your hair is not too oily.