Diwali Party 2018- There is an unmistakable buzz in the air. Diwali season is here and if the traffic on the road is any indication, India is alive with festivities. As much as Diwali is about lights and the spirit of giving, it is also about visiting people's homes and the quintessential Diwali parties. So, if you're planning to throw a Diwali bash but are stumped for ideas, fret not. From scrumptious starters to seating and décor – we've got you covered for Diwali 2018. Trust us, with our brilliant tips and tricks, you no longer have to scramble last minute. Here's an A-Z guide to hosting the party of the season.We admit - Diwali season is undoubtedly the busiest time on everyone's social calendars. The last thing you want is for your invitation to get lost among all that's happening. To make sure your party is number one on everyone's priority list, send out invites and make personal calls to confirm the guest list. Finally, a day before the party or on the actual day of the party, send a final message out to all your friends and family as a mere reminder - a simple "looking forward to see you" will do. That last personal touch goes a long way, and you'll be thanking us when you'll have a full house!

Food, First
Let's face it, good appetizers get the party started. For Diwali 2018, we help you raise the bar with sensational bite-sized starters. Why, you may ask? Your guests will be playing an intense game of cards all night, so stick to snacks that are easy to gobble up, minus the grease and don't get their hands dirty. We suggest a mix of luxurious and low-calorie starters, as well as hot and cold choices so you have something in store for everyone, from golgappa shots to mini tartlets, skewered kebabs to tuna pates. Note to remember: Pre-planning is the key, because the last thing you want to be doing is running to and fro from the kitchen while your friends and family are having a ball. Create a simple menu for dinner as well, just a biryani or perhaps something quick which can be rustled up a few hours before the party. Do not forget to prepare some delicious sweets for desserts. Buy your groceries before hand, and don't forget the cheese and crackers. Warning: Stick some chicken satays and kebabs in the freezer which can quickly be defrosted, just in case your guests show up with a +1.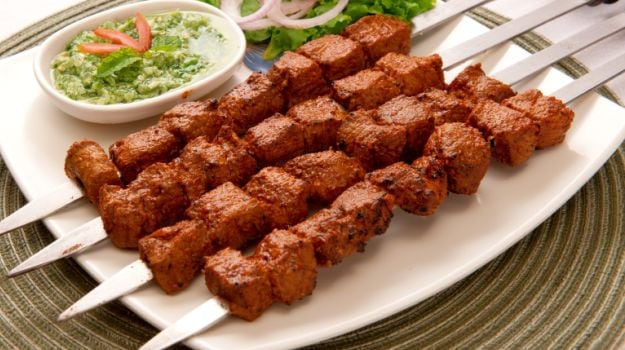 Diwali Party 2018: Food is the heart and soul of every diwali party.

Décor is the Key
As the saying goes, "first impression is the last impression" - décor is key to building up the right atmosphere for the night. From the moment your guests walk in, they should feel welcomed, and ready to
party
! It depends largely on the number of people you've invited, so if you want to keep it simple and cozy - stick to some lanterns and
diyas
to create a festive atmosphere. Decorate with beautiful flowers for that extra appeal. If you're throwing your annual Diwali bash, go for something a little more opulent and maybe call a professional. Adorn the entrance of your house with colorful
rangolis
and beautiful
torans
, floating flower petals and t-lights. Let your entire home bask in the light of flickering
diyas
and lanterns all around. You might even want to keep a theme! If you're picking a casino royale night, get roulette machines and black jack tables; or if you're planning to throw a Bollywood bash, put up movie posters and ask your guests to dress up as their favourite actors. It's a fabulous way to move away from the mundane
taash
parties.We can't stress the importance of seating enough, since the prime purpose of the party is playing cards. You have to make sure your guests are comfortable and have enough space. The worst nightmare for any host is to see your guests scramble to find a place to sit. So plan well in advance, and allocate playing tables according to the amount of people you have invited. Mattresses or
gaddas
are always a great way to seat people as well, since they take up lesser place and tend to seat more people.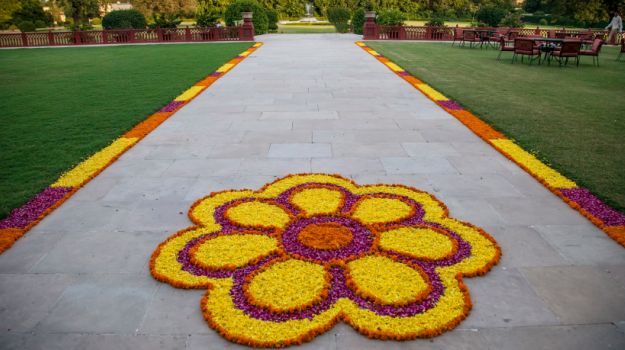 Diwali Party 2018: The most exciting part about Diwali is to deck up your home with beautiful flowers and lights.

Drink Up!
Keep the alcohol flowing and the good times rolling. As the music gets louder, the drinks get stronger, the stakes get higher and the party gets better. So make sure you have a well stocked bar beforehand. Hiring a bartender for the night is always a good idea, so you don't have to be the one running helter skelter. But if you're having a small do, and you and your friends want to play bartender for the night - mix up some groovy cocktails. You can also whip up some non-alcoholic raspberry mojito, pomegranate punch et al. They are as good, if not better. Use music to charge up your guests even more, and set the party mood. Diwali calls for the standard Bollywood foot-tappers, so make sure you have a speaker and a playlist ready to avoid any last minute running around.
Surprise Surprise!

Towards the end of the night, when your guests are played out and ready to go home, add an element of festive fun by bringing in the firecrackers! And just when your guests think the party is over, surprise them with a little something to take home with them, as a reminder of how great the party was. Because no matter how old you get, you're never too old for party favours. It can be as extravagant as Lakshmi and Ganesh idols or as simple as a good old box of cookies or chocolates.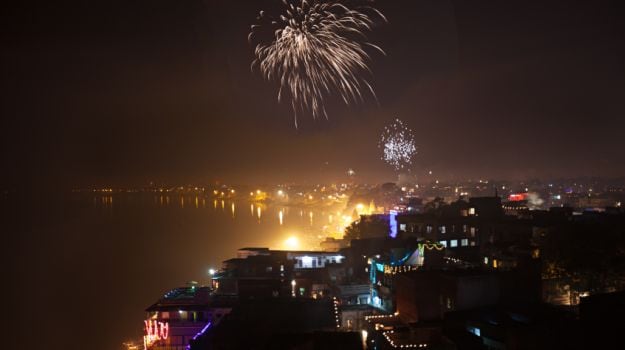 Plan, prepare, party! And above all, enjoy yourself while you're at it.
Happy Diwali 2018!