With a myriad of colourful kites flying in the sky and people enjoying the soothing winter sun on their roofs, Makar Sankranti festival is the celebration of the ascent of the sun into the northern hemisphere. Since it is a harvest festival, most of our age-old traditional delicacies for Makar Sankranti are prepared using sesame seeds (til) and jaggery that are consumed in huge numbers during this time. These traditional delicacies are not only meant for pampering our taste buds but also for maintaining good health and keeping away a number of health issues that we are prone to, especially in this season.


(Also Read: Why do Til and Gur Play A Significant Role in Sankranti Celebrations)
Health Benefits of Sesame Seeds (Til) and Jaggery -
The ingredients - sesame seeds and jaggery - are of hot potency (taseer) and are packed with micronutrients. Did you know that the combination of sesame seeds and jaggery works wonders in fighting respiratory issues like asthma and bronchitis, and also helps in blood cell formation? These ingredients offer number of other health benefits, some of which include:
Jaggery may regulate the body temperature and detoxify the body.


Both sesame seeds and jaggery are rich in calcium, which is essential for bone health.


Both sesame seeds and jaggery are also packed with iron, zinc and many other micro nutrients.


In winter season, the blood vessels get constricted. Jaggery may effectively dilate the blood vessels and help improve blood flow.


Both Jaggery and sesame seeds may work wonders in improving digestion and regulating bowel movement.


Jaggery contains potassium and hence, it may help in maintaining the electrolyte balance in the body and also boost metabolism.


Sesame seeds are anti-hypertensive and may help normalise blood pressure. They can also boost liver function, and are a rich source of essential fatty acids and amino acids.


(Also Read: Til Ladoo Recipe)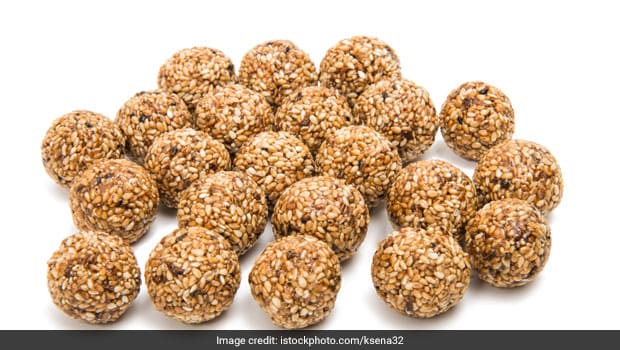 Til Ladoo is another sweet dish made during Lohri, made from sesame seeds
Here we have brought Ayurveda-based recipes for few traditional Makar Sankranti special delicacies which you can prepare and relish with your dear ones.


Makar Sankranti-Special Foods You Can Prepare At Home:
1. TIL PAPADI
Preparation time: 5 minutes


Cooking time: 8 minutes


Ingredients:


Sesame seeds 200 gms


Jaggery (Organic) 150 gms


Cow ghee 1 tbsp


Pistachio, finely chopped 1 tbsp


(Also Read: Makar Sankranti 2019: 6 Traditional Foods To Celebrate Makar Sankranti)


Til papdi is prepared with other sweets on Makar sakaranti
Steps:


1. Lightly roast sesame seeds and leave them aside.


2. Break jaggery into small pieces.


3. Melt ghee and jaggery in a small pan and cook it on a medium flame by continuously stirring it.


4. Check if the jaggery has become crispy; to do this, take some water in small bowl and add a drop of melted jaggery in it and test its crispiness.


5. Once the jaggery is crispy, add roasted sesame seeds in the jaggery pan and mix well.


6. Keep this pan in a large bowl of hot water.


7. Take a small portion of this mixture at a time and flatten it with the help of a rolling pin.


8. Sprinkle a few slices of chopped pistachio on top and immediately roll it. You can smear rolling pin, palms and work surface slightly.


9. Transfer the roll to a clean butter paper sheet and allow it to cool.


10. Divide it into small pieces and store in an airtight container.


2. Nolen Gurer Payesh (Bengali)
(Also Read: Makar Sankranti 2020: Date, Time, Significance And Traditional Foods To Celebrate)
Nolen Gurer Payesh is a Bengali Delicacy


Preparation time: 5 minutes


Cooking time: 50 minutes


Ingredients:


Gobind bhog rice ¼ cup


Cow milk 4 cups


Date palm jaggery ½ cup (can add more as per taste)


Bay leaf 1 small


Cardamom powder ¼ tsp


Cashewnut 2 tbsp


Raisins 1 tbsp


Steps:


1. Soak the rice for an hour after rinsing it a couple of times with clean water.


2. Cut date Palm jaggery into small pieces and keep it aside.


3. Take milk in a thick pittal (brass) pan and boil it for 8 to 10 minutes.


4. Drain the water from rice and add it to the boiling milk.


5. Add 1 bay leaf and 1/4 tsp of cardamom powder


6. Simmer on low flame till the rice gets cooked. Stir it often to make sure the rice does not stick to the pan.


7. Once rice becomes soft, add cashewnut and raisins and turn off the gas stove.


8. Leave the pan for 5 minutes on counter top till the heat reduces a bit.


9. Add a small portion of palm date jaggery and mix it well.


10. Add the remaining jaggery and mix it well till the jaggery dissolves completely.


11. Your payesh is ready to be relished.


3. Til Gud Poli
(Also Read: Makar Sankranti 2019: Here's Why We Eat Khichdi On Makar Sankranti)


Til Gud Poli also identifies as a sweet parantha because of its preparation technique


Preparation time: 10 minutes


Cooking time: 20 minutes


Ingredients:


White sesame Seeds, cleaned 2 cups


Jaggery, grated 2 cups


Cardamom powder 1 ½ tsp


Nutmeg powder ¼ tsp


Whole wheat flour 1 ½ cups


Rock salt to taste


Cow ghee 2 tbsp
1. Mix whole wheat flour, oil and salt and knead it well to form dough.


2. Cover the dough with a moist cloth to keep it soft.


3. Dry roast the sesame seeds, till they turn golden brown.


4. Once they cool down, pound them coarsely.


5. Add the grated jaggery and pound once again, to make the mixture even and smooth.


6. Add the cardamom and nutmeg powder; the sesame seed mixture is now ready to be stuffed.


7. Take a small ball-sized portion of the kneaded dough into your palm and make it into a small bowl shape.


8. Fill this dough bowl with a teaspoon of the sesame seed mixture prepared in step 6.


9. Pull up the sides and seal the ball.


10. Repeat steps 7 to 9 till all the stuffed balls are ready.


11. Oil a rolling board and place a stuffed ball on it.


12. Roll out the ball into a thin round disk. Repeat with other balls.


13. Dry roast it on pan, then apply little ghee and cook again till they turn golden brown and crispy.


14. Your til gud poli is ready to be served hot.


(Recipe inputs from Kaushani Desai, Art of Living's Ayurvedic Cooking expert and author of popular works Sattva The Ayurvedic Cook Book.)