If you want to explore a cuisine, a wholesome thali is probably the best way to start with. In India, you would find a wide range of thalis, defining the food culture of different regions. You have Bengali thali, Punjabi thali, Maharashtrian thali and more, each coming with its veg and non-veg versions. Another such popular option is Andhra thali, defining the cuisine to its best. And if you ask us, Hyderabad is considered one of the best places to explore Andhra thalis. This weekend, we will take you through some of the most popular eateries in the city, offering soul soothing Andhra meals.
So, if you are in Hyderabad, we suggest, keep the list handy and hit these places to know more about Andhra cuisine and its dishes. Read on.
Also Read: Looking For Breakfast Places In Hyderabad? 6 Affordable Eateries To Try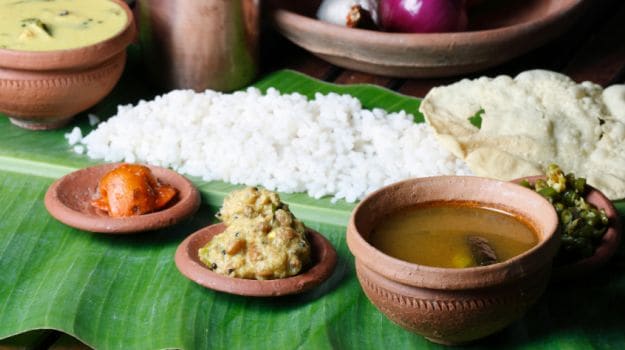 Here Are 5 Of The Best Eateries In Hyderabad Offering Andhra Thali:
1. Pallevindu:
Located in the heart of Hyderabad, near Hi-tech city, this place transports you to the villages of Andhra Pradesh. It is an authentic Telegu restaurant, with village theme, and offers food on banana leaves. You can go for a-la-carte or a complete thali to enjoy the traditional flavours of the cuisine.
Where: Plot no:25, Jayabheri Enclave, Gachibowli, Hyderabad
2. Teluguness:
The name of the eatery speaks for it all. This place offers you a range of foods that narrates the authentic cooking styles from Rayalaseema, Telangana and Andhra regions. What we love the most about this place is the versatility. You would get authentic regions combos that are considered signature dishes in the restaurant. Then there are a range of tandoori recipes, pleasing your palate with its rustic flavours.
Where: Hitech City Main Rd, Surya Enclave, Silicon Valley, Madhapur, Hyderabad
3. Sri Kakatiya Deluxe Mess:
If you are looking for a soul soothing meal, then this place is a must-try. This place offers both veg and non-veg meals and are majorly crowded during the lunch time by college students and office goers. Here, you would find a buffet of dishes, offered at a budget-friendly price.
Where: 1st Delta Chambers Shop No. 1&, 2, Mumbai Hwy, Ameerpet, Hyderabad
Also Read: Hyderabad's More than Biryani - Try Blazing Andhra Cuisine
4. Spicy Venue:
If you are looking to explore the Telegu specialties, then this place is a must-try. From flavourful rice and dal to custards made with apricot, this place offers you food that will strike a chord every single time. What we enjoyed the most are their home-style cooking techniques that offers you an experience of meals consumed in a quintessential Telegu household.
Where: Door 8-2-293/82/A/265-S, Road 10, Jubilee Hills
5. Aromas of Andhra:
Let's agree, the name says it all! Here, you would get the traditional veg thali, non-veg thali and Rayalaseema thali to satiate every type of foodie. You would get a range of dishes in each of the thalis that come in satisfactory amount, curbing your hunger in the most delicious way possible. It also has a special Bahubali Thali for the ones who enjoy taking up food challenges. Would you want to give it a try?
Where: Banjara Hills, Hyderabad
Go through the list and pick a spot for a foodie exploration this weekend.
About Somdatta SahaExplorer- this is what Somdatta likes to call herself. Be it in terms of food, people or places, all she craves for is to know the unknown. A simple aglio olio pasta or daal-chawal and a good movie can make her day.