Known as one of the spiciest regional cuisines in India, you may try to avoid it but you can't really ignore Andhra food. The truth is that not all the dishes are excessively smeared in chillies, contrary to the popular belief. There are many Andhra delicacies with mild but distinctive flavours that can completely bowl you over, and you are bound to find yourself reaching out for more. No wonder the Andhra Pradesh/Telangana Bhawan canteen in New Delhi is such a rage not just among the South Indian residents and visitors, but people from all across the country, as well as abroad. You know a place is ought to be worthwhile when people even from different parts of the world rave about it. That's how I learnt about the canteen at Andhra Bhawan a decade ago - from a bunch of Italian friends who had one of their most memorable meals there. Who would have thought!
The canteen has been around for around 27 years now, and in the recent time has become a combined canteen of Andhra Pradesh and Telangana Bhawan. Much like renowned fine dining restaurants and cafes, it too has a long waiting queue, especially on weekends. So apart from a good appetite, you also need to go with some amount of patience to fight the crowd and get a table. The canteen has a token system in place, wherein you first need to place your order, get your token, wait for your turn and then head inside to finally enjoy your meal.Also read: Telangana Food Versus Andhra Food: What's the Difference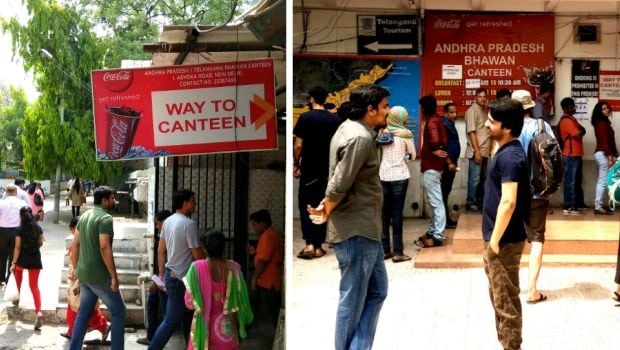 The two-floored canteen is basic with no-frills, but you can sense the seriousness of the business of serving food to the enormous crowd of people the moment you step in. It also makes you wonder that there has to be something special here, or it is impossible to find such a mad rush in a place as simple as this canteen. Hats off to the management for doing such a great job and being perfectly in sync. The service is very prompt and your order hardly takes time to reach you once you get your table. There's no dilly-dally. You eat and move on to let others in.
The menu is limited, and the most "in-demand" item from the list includes the South Indian Thali. On Sundays, they offer a special Lunch Hyderabadi Dum Chicken Biryani. They also have a few non-vegetarian side dishes throughout the week, of which the Andhra Mutton Fry is a hot favourite. If you are an early riser, you can also head there to try their breakfast meal, which comprises a piece each of idli, vada and dosa along with tea or coffee.Also read: 10 Best Andhra (Telugu) Recipes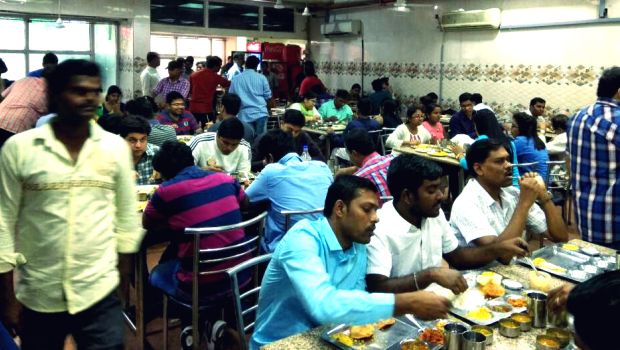 Our Meal at the Canteen
Coming back to the thali, it is an unlimited spread, where you can enjoy the South Indian meal to your heart's content. Having too many options on a plate could be overwhelming, so we decided to go slow and started with the piping hot pooris, thick yellow dal (pappu), and the two vegetable curries (stir-fried carrots with grated coconut and mustard seeds, and eggplant pulusu - a tamarind-based stew). And no, we didn't find ourselves huffing and puffing from the aftereffects of the chillies in the food. The dishes were in fact mildly spiced, letting the flavours of the main ingredients stand out. Next, we teamed the rice withsambarand the side of Andhra Mutton Fry, which again wasn't chilli-spicy and the slow-cooked meat had beautifully soaked in the flavours of the aromatic masalas, living up to its expectations. A must try!
The Hyderabadi Dum Biryani was surprisingly tame, but we enjoyed the succulent chicken pieces and the fluffy, non-greasy rice on that hot afternoon. For those with high spice levels, it may be a disappointment though. An old couple sharing the table with us claimed that they have been coming to the canteen every Sunday without fail for the last three years to relish the biryani. "We find no other biryani as delicious as the one they serve here in the canteen. It's not full of masalas, which we are very thankful for, and we really enjoy the simple flavours," said Mr. Krishna Rao, a retired government official.
No South Indian meal is complete without rasam and rice, and we had our enjoyable share before moving onto the dessert, which was rava kesari. Soaked in ghee, it's hard to say no to this South Indian halwa. And with this, our meal finally came to a fitting end.
Also Read: Andhra Pradesh Food: 10 Local Dishes You Must Try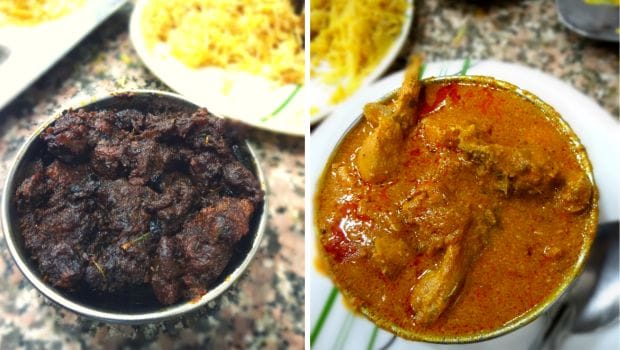 What Makes It Special?
Sridhar Reddy, an IT professional based in Delhi, says, "My friends and I love coming to this canteen for its home-style dishes. Besides where else will you find such delicious food at such reasonable rates? It's totally worth it." We couldn't agree more as a meal for two costed us just INR 500 [one South Indian Thali (INR 120), one Hyderabadi Chicken Dum Biryani (INR 220) and one Mutton Fry (INR 160)]. A quick chat with one of the servers and we learnt that the menu changes every day, even for lunch and dinner. So there's plenty to try for regulars.
Food blogger Maneesh Srivastava of Urban Escapades says, "If you love South Indian food and prefer digging into thalis, then Andhra Bhawan canteen is a must visit. Unlimited Vegetarian Thali for INR 120 is worth a deal. The hustle bustle, clinking of spoons, hurried service - it's all a unique experience, which is reminiscent of a college mess. The place is crowded, however they manage to provide quick service. My favourites include the Sunday biryani, Mutton Fry and Prawn Masala."
Sneha Sekaran, a Marketing Executive in an MNC, says, "It is comfort food at its best. So when you come here you should have only one thing in your mind and that is food. Don't expect a pretty place or great ambience. Don't even expect spicy or masaledar food. Also for the rates they offer, it's a great treat."Also Read: 4 Restaurants in Hyderabad You Must Visit to Enjoy the Local Cuisine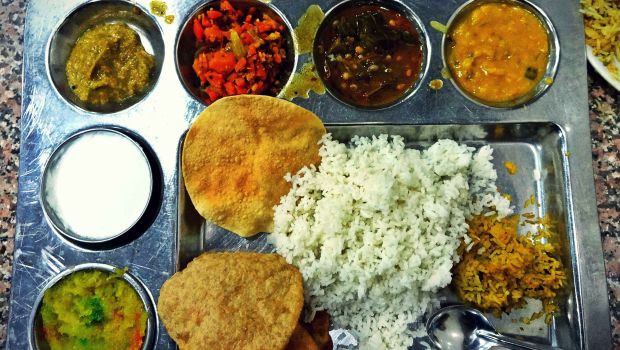 Our take is that don't go there if your idea of Andhra food is a spicy and fiery feast because it is not. The food is simple and home-style, with mildly flavoured dishes that are immensely satisfying no doubt. If you love South Indian food then you are definitely in for a treat. But yes, go early or be prepared to queue up. It's part of the experience of dining in this iconic food institution.
Timings: 8 AM to 10:30 AM, 12 Noon to 3 PM, 7:30 PM to 10 PM
Address: 1, Ashoka Road, Feroze Shah Road, New Delhi