Photo Credit: Facebook/AndhraMessChennai
When Kota Ehirajulu set up National Lodge in 1952, the price of a 'full meals' was 4 Annas (25 paise). Back then, Georgetown was the financial nerve centre of Madras and probably the Madras Presidency. The state of Andhra Pradesh had not yet been demarcated from the Madras Presidency and North Madras had a sizeable Telugu speaking population. That hasn't changed to this day and neither has the quality of the
Andhra meals
at National Lodge. Georgetown's grid of streets lead all the way to the Madras harbour and not far away from Fort St. George. Just like London's 'zoned' streets, each of Georgetown's historic streets were dominated by a specific retail trade. For instance, Linghi Chetty street is still the hub of steel merchants while Govindappa Naicken street is home to rows of shops that specialize in electrical goods. Amidst the clutter of these electrical stores, it's quite easy to walk past National Lodge.
The Komti Chettys share their surname with the Natukkotai Chettiars from the Chettinad region in Southern Tamil Nadu. Aside from the surname, the communities also share a sharp business acumen. Many of Chennai's legendary retail and trading brands are run by this illustrious community who originally hail from Andhra Pradesh. But the similarities end here.
Chettinad cuisine
is dominated by
meat dishes
while the Komti Chettys are proudly vegetarian. This is why National Lodge is strictly vegetarian.SN Deepak took over the mantle from his maternal grandfather Kota Ehirajulu in the 1990s almost as soon as he graduated from college. Deepak and his brother Dwarak run National Lodge. Deepak tells me that he hasn't changed the script and runs the restaurant the same way his grandfather did. The lodging facilities and the interiors of the restaurant haven't been tweaked a great deal but it's the consistent flavours that have regulars eating out of their hands; literally. Deepak and Dwarak don't just sit in plush cabins and count money all day. By 12 noon, they roll up their sleeves and join the service crew, constantly checking on diners. There's seating for less than 90 diners across their air-conditioned and 'Non A/C' sections but I'm sure they manage to serve at least a 1000 'full meals' on average every day (they also offer a 'parcel' service). It's the Fast and Furious style action-packed service routine that makes this possible. Most diners are in and out in 15 to 20 minutes flat and the staff barely stop to take a breath. Deepak is proud that the restaurant still uses his grandmother's recipes and believes his grandfather's menu descriptors have stood the test of time. Back then, his grandfather used the term '
Gun Powder
' to describe the restaurant's most popular dish. Even today diners buy packets of the
dal
powder - a quintessential part of an Andhra Meal, as a takeaway from the restaurant. Regular diners know what to do with their gun powder - usually the first course, they blend it with a raw tamarind (Chintakaya) chutney, rice and
ghee
and pair it with crunchy raw onions. It's the gun powder that keeps bringing me back to National Lodge. (Also read:
8 Best Restaurants in Chennai You Must Visit
)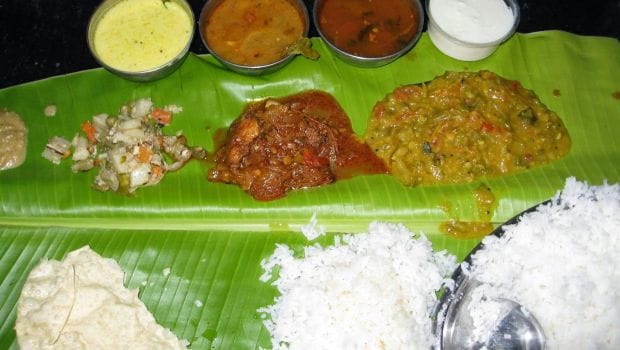 Most regulars also keep coming back for their traditional
Avakkai (Mango) pickle
that they make in large quantities in the summer and store for the rest of the year. Every meal has five accompaniments – there's a stir fried vegetable (Thalimpu),
appalam
(Pappad),
pappu
(Lentil based-gravy), chutney and a
raita.
The accompaniments change every day, just ask the regulars if you need more information; they keep track religiously. One of the bi-weekly specials is the
Vada
(lentil-based doughnut) served with
Sambar
. The Sambar is the first of five courses that include a
Rasam
, Challa Chaaru (spiced foamy buttermilk), Guddilu Pulusu (spicy gravy) and curd with rice. That's when the atom bomb is usually dropped. Kota Ehirajulu coined the term to describe the fiery blackened chilly that is served at the end of the meal.65 years later, the meals cost Rs. 90 (Non-AC) and Rs. 120 (if you dine in the AC section). The regulars no longer just include the city's Telugu speaking population or visitors from Andhra. The area's large Marwari trading community frequent the restaurant especially on Saturdays – payment day for most business establishments in the city. Saturdays can be tough for Deepak but things start to quieten down by 4 pm. While the regulars keep coming back, National Lodge keeps adding newer patrons each year even though the dining experience or the menu hasn't changed a lot since the 1950s. It's probably why this restaurant will continue to be relevant and crowded just like the busy streets of Georgetown that are still a beehive of commercial activity centuries after the East India company set up shop here.
About the author:
Ashwin Rajagopalan is a cross cultural training expert and lifestyle writer. When he's not writing about food, he thinks about gadgets, trends and travel experiences. He enjoys communicating across cultures and borders in his weekday work avatar as a content and editorial consultant for a global major and one of India's only cross cultural trainers.Disclaimer:The opinions expressed within this article are the personal opinions of the author. NDTV is not responsible for the accuracy, completeness, suitability, or validity of any information on this article. All information is provided on an as-is basis. The information, facts or opinions appearing in the article do not reflect the views of NDTV and NDTV does not assume any responsibility or liability for the same.
About Ashwin RajagopalanI am the proverbial slashie - a content architect, writer, speaker and cultural intelligence coach. School lunch boxes are usually the beginning of our culinary discoveries.That curiosity hasn't waned. It's only got stronger as I've explored culinary cultures, street food and fine dining restaurants across the world. I've discovered cultures and destinations through culinary motifs. I am equally passionate about writing on consumer tech and travel.