This one's for all the meat lovers out there! The first two things that come to our minds with the word meat are any form of meat bathed in spicy Indian curry or the very famous meat kebabs. But, over the past couple of decades, we have come to relish another form of meat called as 'steaks,' although primarily due to the western influence. For the ones who have a limited understanding of steaks; a steak is usually a piece of meat sliced across the muscle fibres of an animal, and slowly grilled on wood fire for perfection. Grill it a little too much and it loses its tenderness and grill it a little less and you will upset a real steak lover. But, don't worry as we know some of the best chefs in Delhi, who have perfected the art of preparing delicious steaks. Below is a list of 5 of the best places in Delhi NCR that serve this scrumptious delight. Read on to know more about them.
Smoke House Deli
While you would have heard the name of this one on listings of popular breakfast places, this award-winning restaurant chain serves a variety of delicacies throughout the day. We would suggest going to one of their restaurants on a beautiful sunny day, and try their house special tenderloin steak with asparagus. They have a classic version of the steak too if you'd like to stick to the basics.
Where: Khan Market, Hauz Khas, Vasant Kunj, Saket and Connaught Place
Smokey's BBQ and Grill
The rustic decor of this place calls for an extended Sunday lunch. The place not only manages to lure people with its idyllic decor but also manages to pull people with its Kitsch display of overly large vodka bottles and knives hanging around: Ironical, isn't it? Well, if steaks are to be considered, this place will go a long way in allaying your needs for a good steak meal. If smoked ribs are your weakness, you will enjoy the very eccentric version of this dish here. What we find most exciting here is the sea bass glazed with kasundi mustard with corn and coconut cream.
Where: 51, 1st Floor, Khan Market
The All American Diner
This place is a no-brainer when it comes to good American food. Not only is the all American diner one of the classic breakfast joints but also notoriously famous for its juicy and authentic American steaks. The black and white tiled flooring with a plush red decor will make you feel American at all times. The chicken steak with golden fried prawns served with American corn and sauteed vegetables are sure to take you by surprise. Their peppered longhorn and Norwegian salmon steaks are other steaks that one must try.
Where: India Habitat Centre, Lodhi Road
United Coffee House
Well if you haven't been to this place before, you are clearly not from Delhi. This restaurant, in the heart of the city, is one of the oldest places in Delhi that has served generations with its good food, exquisitely beautiful ambiance, and a friendly staff. United Coffee House has much to offer to the traditional Indian palate, but what we would focus on here is their choices of steak, both vegetarian and non-vegetarian. Their mix meat grill is a sizzling assortment of their grilled meats served with homemade barbecue sauce. It has taken an honorary mention because the restaurant has been serving this since 1942. Their chicken meringue, pan-grilled chicken sauteed with bacon is a clear winner in the special steak section prepared by Bengali chefs since the 70s; and veg a'la bomb, a melange of vegetables arranged in the form of a steak served with mashed potatoes is a good substitute for our vegetarian audience.
Where: E-15, Inner Circle, Connaught Place
The Grill Room
Located in the heart of the city, The Grill Room is a heaven for those who love European food. The restaurant is inside The Lalit New Delhi and has a very warm ambiance. This place is touted as one of the best places to have a good steak meal with the added advantage of a sommelier to guide you to pick just the best wine to go with your steak. While you will be delighted by the tenderloin here, the restaurant has a wide variety of offerings to appeal to its international clientele. Not just the steaks but the accompaniments here are to die for.
Where: The Lalit New Delhi, Barakhamba Road, Connaught Place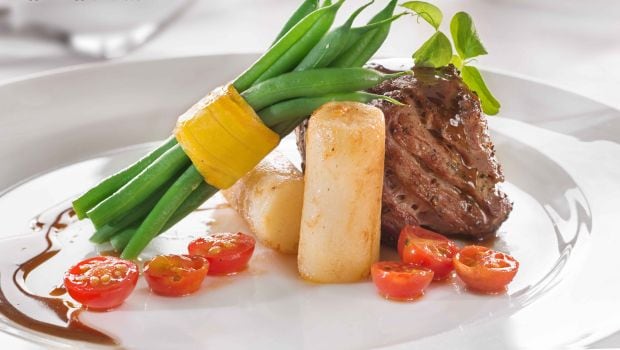 The Grill Room is a heaven for those who love European food
We have tried our best to stick to the meaty definition of steak barring a few special mentions here and there of vegetarian steak but our vegetarian readers have a wide variety of cottage cheese steaks available in almost all the restaurants listed above. So, indulge yourself in the American way and let us know how you liked our suggestions.
About Shubham BhatnagarYou can often find Shubham at a small authentic Chinese or Italian restaurant sampling exotic foods and sipping a glass of wine, but he will wolf down a plate of piping hot samosas with equal gusto. However, his love for homemade food trumps all.