If you are looking to lose those extra kilos, you might be searching for the best tips and tricks to quickly achieve so. But wait a minute, the first tip you should keep in mind on a weight loss journey is that it is a gradual process and no miracle. It is never an easy task. From exercise to diet charts and much more, there's a lot to keep in mind while shedding extra kilos. Besides, we must carefully choose our foods that we can easily include in our daily diet and at the same time satisfy our taste buds. Fruits are one of the best things to add to your weight loss diet as they are incredibly nutrient-dense and full of vitamins, minerals and fiber, but it contains few calories, making it ideal for weight loss.
Here we bring you a list of 5 fruit-based recipes to add to your weight loss diet. Take a look.
5 Weight-Loss-Friendly Fruit Recipes:
Watermelon Salad
Due to its low calorie and high-water content, watermelon keeps a person full for long, which may help to promote weight loss. Furthermore, this refreshing fruit is a perfect way to keep your body hydrated throughout the day. The watermelon salad recipe is a bowl of freshness with watermelon balls, lettuce along with pine nuts, tossed with a sweet and tangy dressing of lemon and honey. Click here for the recipe of watermelon salad.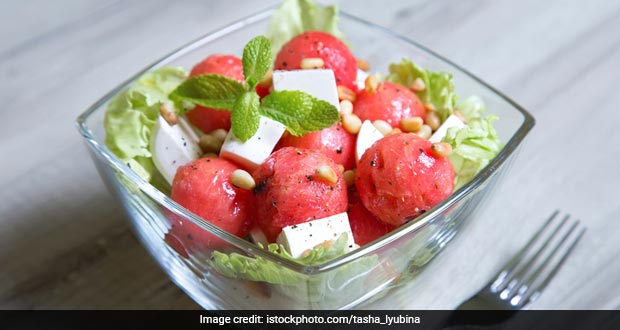 Fruit Chaat
Weight Loss food is not meant to be dull and boring. Here we bring you the recipe for street-style fruit chaat, which can easily be made at home in no time. This recipe can include any fruit of your choice and since it is chaat, spices can be mixed as per your taste buds. Click here for the recipe of tangy fruit chaat.
Tandoori Fruit Chaat
Tandoori fruit chaat recipe has the goodness of pineapple, sweet potato, green apples and star fruit, marinated in a pool of spices, including anardana, chaat masala, garam masala, roasted cumin, and Kashmiri mirch powder along with olive oil and balsamic vinegar. Once you try this unique recipe, you are sure to get hooked with its amazing flavours. Find the recipe of tandoori fruit chaat here.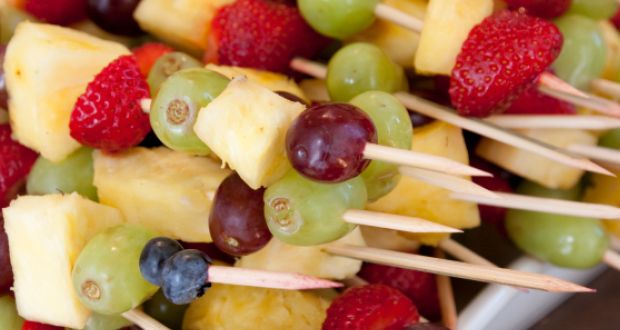 Fresh Fruit Muesli
A tasty and healthy amalgamation of fruits, juices, oats, yogurt, honey and nuts. The result of this muesli bowl is extremely indulging and healthy. Find the recipe for Fresh Fruit Muesli here.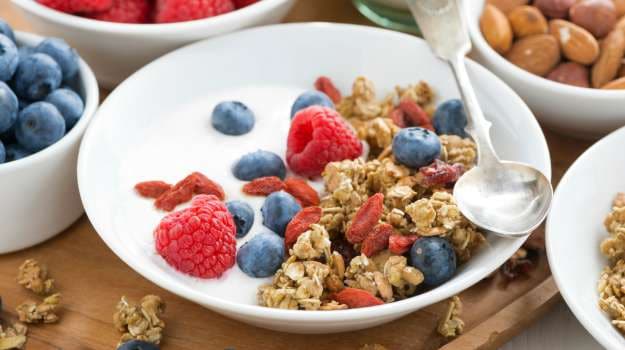 Mango and Yogurt
The mango season is about to end soon, so make sure you get your hands on the last few ones to try out this delish combination. Fresh, chilled mangoes mixed with yogurt could help stave off your sugar cravings. Click here for the recipe of mango and yogurt.


So, amp up your weight loss diet and try out these recipes and let us know how you liked them in the comment section below.