chaat masala and lemon to give it the final lip-smacking finish. Yes, we are talking about fruit chaat that you can gorge on at any time considering how replenishing they are. However, have you ever wondered what all fruits should actually go into your bowl? If you haven't thought about it yet, worry not, as we give you some tips to get your fruit chaat just right and of course a few recipes to get started. Read on!

According to the book Diet & Nutrition, A Holistic Approach by Rudolph Ballentine, each fruit has its own special personality and they should each be treated differently when mixing them. Generally, a combination of two or three fruits is optimal to make a fruit chaat to enjoy the flavour and taste of each fruit.





According to MasterChef contestant Chef Rohini T. Chawla, "always try and use firm yet ripe fruits. Seasoning is important. Fruit Chaat should have sweet, salty and sour notes in it to be delicious. If you want to add a dressing, add it just before serving to avoid fruits from becoming soggy. Fruits and herbs make a delicious combo."





Experiment with different herbs in your chaat to take it to another level. Restricting yourself to no more than 3-4 fruits for a chaat is ideal. Adding more fruits to it will mean losing flavours of each fruit. For example, banana, papaya and guava have a very pronounced flavour, hence avoid having all of them together in one chaat.

Here are some fruit combinations that you can add in your chaat:





1. Apples, oranges, pomegranate, mango





2. Banana, green apples, kiwis, grapes, strawberry





3. Watermelon, orange, peaches, and cherries





4. Melon, grapes, figs, apples, pineapple





5. Pineapple, mango, pomegranate, strawberry





Here are 6 recipes of fruit salad with a twist you would love to try at home.





Fruity Pizzalla





Recipe by Chef Rohini T. Chawla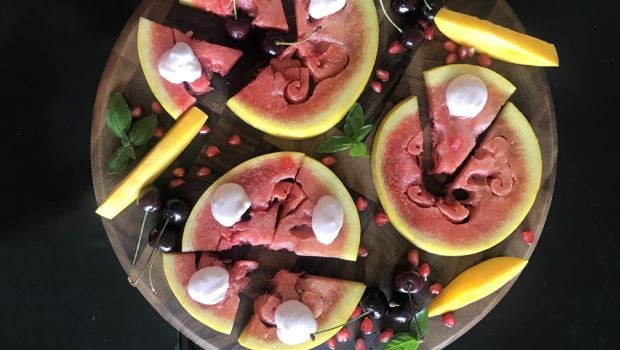 Photo Credit: Chef Rohini T. Chawla
Ingredients
Medium size watermelon
Firm Mango
Cherries
Kiwi
Flavored Greek Yogurt
Handful almonds/pistachios/walnuts (finely chopped)
Platter to assemble. Chopping board or a big platter would be ideal
Dressing
1 tablespoon Honey
2 thinly chopped Green chilies
Pinch of cinnamon powder
1/2 teaspoon cardamom powder
1 lemon
2 tablespoon Olive oil
Salt to taste
Dressing
In a mixing bowl combine lemon juice, olive oil, honey, cinnamon, and cardamom powder and whisk. Add finely chopped chillies and salt to taste.
Fruit Preparation
Cut watermelon into disc about an inch thick
Slice each disc into 4-6 wedges depending on the size of the slice
Slice mango into thin slices
Peel and cut kiwi into small rounds using a melon baller
Assembly
Place the watermelon discs slightly separated from each other on the platter
Arrange cherries, kiwi, and mango slices around the watermelon. Keeping in mind not to crowd the platter
Pipe or spoon a dollop of Greek yogurt on each watermelon disc and drizzle the dressing on the fruits
Sprinkle finely chopped nuts of of choice for added texture and crunch
Garnish with fresh mint or basil leaves and enjoy the Fruity Pizzalla
Recipe by Chef Sunil Marwah
Sweet potato, green apples, star fruit, pineapple and three coloured peppers are marinated in a distinct mixture and cooked in a tandoor/oven.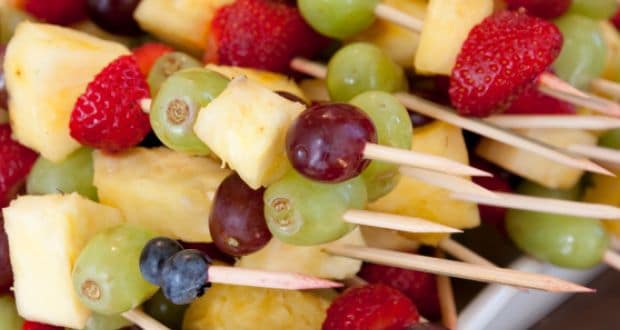 Recipe by Chef Aditya Bal & Devanshi
Here's a classic fruit chaat made with a mix of fruits with lemon and salt. Time to gorge on to some yumminess.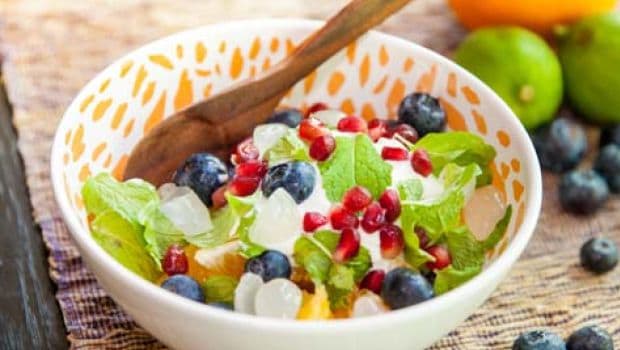 Recipes by Chef Sunil Chauhan
Assorted fruits coated with spices and honey, roasted and served warm is just the twist brought to the usual chaat.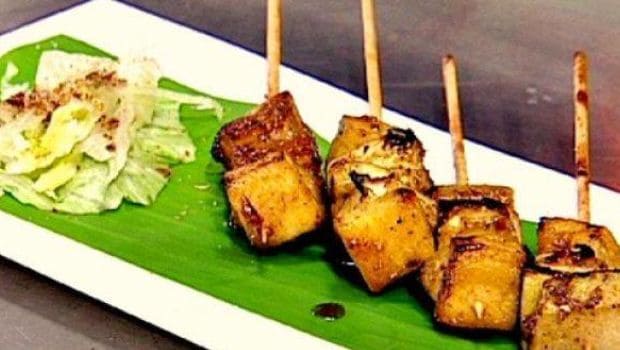 Photo Credit: Facebook/Cooking recipes
Recipe by Chef Kunal Kapur
Here's a quick and easy way to create something super hydrating and loaded with fruity flavours. All you need is some basic fruits, fruit juices and a handful of ingredients.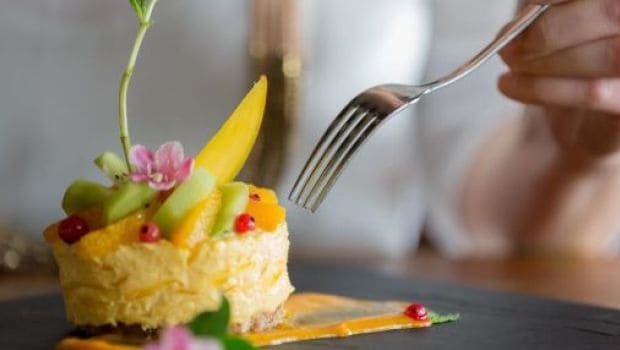 Recipe by Chef Shatbhi Basu
This one's just perfect for a house party! Vodka with fruits and a splash of lime juice is the perfect bet for serving the guests.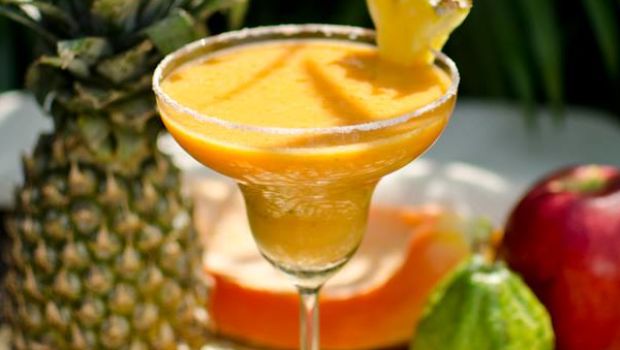 Photo Credit: Facebook/Indian Grill Room
Do tell us if you have your version of fruit chaat and share it with us! Happy healthy indulging.
You would agree, we all love the vibrant colours of fruits mixed in a bowl bringing in a trove of health benefits, along with a dash of