Indian desserts not only satiate our sweet tooth cravings but also please our appetite. There is a gamut of desserts to savour after a lavish meal or to celebrate special occasions, and even to whet untimely cravings. Be it gulab jamun, kaju katli, rasgulla and many more, one thing is common in these dishes - perfect balance of flavours. Just like every other dish, Indians love experimenting with their desserts too, combining ingredients from different cuisines and creating the best of both worlds, which can also sometimes shock your imagination. The Internet is laden with such experiments. For instance, rasgulla chaat, gulab jamun ice cream and more. Similarly, here we bring you a few interesting and unique jalebi recipes. Wondering what those are? Take a look below.


Also Read: 15 Best Easy Dessert Recipes | Popular Dessert Recipes
Here're 5 Unique Jalebi Recipes You Must Try:
1. Jalebi Churros - Our Recommendation
Let's hit the list with our favourite one. Jalebi is a popular Indian sweet treat, whereas Churros are sweet and crunchy, fried golden strings of snack that originated in Spain and Portugal. The amalgamation of these two gave - Jalebi churros. It may sound a bit weird to you all. But, trust us, once you try this recipe, you are going to have it time and again. Click here for the recipe.
2. Jalebi Chaat
Next up is another interesting amalgamation of two different recipes. In this recipe, unsweetened jalebis are topped up with curd, green chutney, sweet chutney, and lots of spices. Click here for the complete recipe of jalebi chaat.
3. Jalebi And Rabri Pizza
Give your pizza a unique twist with this lip-smacking fusion dessert recipe! If you are looking for an interesting dessert to impress your guests, this is the one worth trying. Wondering how to go about it? Click here for the recipe.
4. Apple Jalebi With Rabri Gelato
Savour this eccentric fusion dessert, packed with the goodness of apple and the decadent flavours of jalebi and rabri. Find the complete recipe here.
5. Jalebi with Fennel Yogurt Pudding
Lastly, we bring you a combination of fennel yogurt and jalebi along with mint leaves, making it hard to resist. Add this to your party menu and you are sure to receive appreciation for its exclusive taste and texture. Click here for the recipe.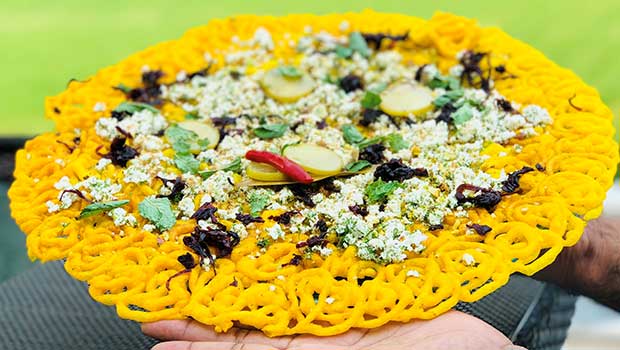 For more decadent desserts, click here for some amazing recipes.


So, what are you waiting for? Try out these interesting jalebi recipes and let us know which one you liked the most in the comment section below. For more such interesting recipes, stay tuned!