Known as the city of dreams, Mumbai also thrives when it comes to the delicious food it offers accompanied with a gorgeous view. Whether you're planning a quiet dinner date with your loved one or are looking to have some fun with your friends, these rooftop restaurants have the perfect setting to enjoy the weather along with some great food on a windy evening or a starry night. Here are seven
great rooftop restaurants
you must visit for the finest view of the city.
1. The Marina Upper Deck, Sea Palace Hotel
This rooftop restaurant is picturesque and boasts of an uninterrupted view of the choppy sea and the historic Gateway of India. The cool breeze sets the mood and it's the ideal vantage point for watching the sunset. As far as the food is concerned, it complements the scenery really well. The stuffed tandoori aloos, the
thin-crust pizzas
, eggplant pizza slider and cheese naan are some of the best things on the menu to enjoy under the open sky.
Address:
Sea Palace Hotel, PJ Ramchandani Marg, Apollo Bunder, Colaba,
Contact:
022-61128000
Cost for Two:
Rs. 1700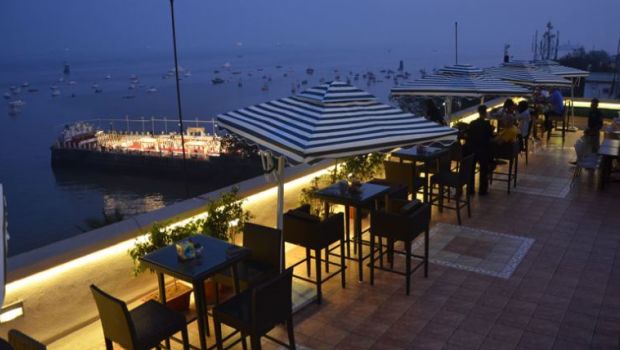 2. Asilo, The St. Regis Mumbai
There are few better ways to enjoy Mumbai than from above gazing at the sea with a cocktail in hand and some
sizzling grills
by your side. The place sparkles with white and wooden interiors with a good looking bar. Come here for the Scallops with Prosciutto, Baked Brie with Onion Marmalade and an exciting cocktail menu.
Address:
The St. Regis, 40th Floor, Phoenix Mills, Lower Parel,
Contact:
022 61344832
Cost for Two:
Rs. 4700
3. AER, Four Seasons
Enjoy a cocktail above the city and enjoy the spectacular view overlooking the sea at one of the best rooftop bars in Mumbai. AER with its futuristic and edgy ambiance is located on the 34th floor of the hotel. This is the place to be with your group of friends to enjoy a few creative cocktails and great music on the weekend.

Address:
Four Seasons Hotel, 1/136, E Moses Road, Worli
Contact:
022 24818000
Cost for Two:
Rs. 4500
4. Kube

With its urban and quirky decor, this bar cum lounge captures the essence of the city. It offers a multitude of experiences including entertainment, good food, a great vibe and lots more. Visit this place to find out what you enjoy the most.
Address:
5th Floor, Crystal Point Mall, Azad Nagar, Andheri West
Contact: 022 30151720
Cost for Two: Rs. 800(Also read:
10 Best Pubs in Mumbai
)
5. The Big Bang Bar
This terrace bar is pocket-friendly and a great place to hang out with a group of friends. They have an inside middle section and two alfresco areas on each side separated by glass and overlooking the Linking Road. Enjoy their cocktails and nibble on some quick bites like chicken quesadillas,
hummus-pita
, and fries. If you like fusion food try their Big Bang Masala Mafia pasta.
Address:
3rd floor, Kenilworth Building, Linking Road, Bandra
Contact:
26008833/77.
Cost for Two:
Rs 1,500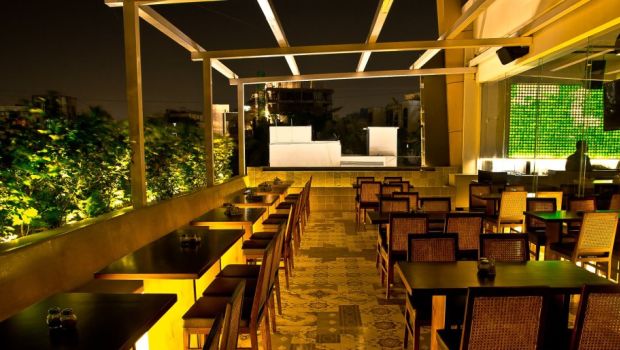 6. Opa Bar
If you're looking to tuck into some Mediterranean food, Opa Bar is the place to be. Dimly lit with dotted palm trees, cabanas and tents, this place does justice to the
Middle Eastern
vibe. Opa Bar opens only in the evening and turns into a rocking hangout for all the party animals. You can try their Arabic thin-crust pizza, mezze platter and mushroom crépes with shitake veloute sauce.
Address:
Hotel Peninsula Grand, Andheri Airport Road, Sakinaka
Contact:
022 30151670
Cost for Two:
Rs. 1500
7. Verbena BrewPub and SkyGarden
The roof and walls are decked with climbers and creepers and living up to its name, most of the area is covered in greens and vertical gardens. This place will serve you some
interesting cocktails
with home-made infusions and locally sourced herbs and spices. The Roots Benefits with gin, beetroot juice, basil and vanilla sugar is a popular choice on the menu. Choose some bar bite like the cassava fries, Indonesian satay chicken and juicy Chiang Mai Prawns to pair with your drinks.
Address:
4th Floor, Trade View Building, Kamala Mills Compound, Lower Parel
Contact:
022 33956113
Cost for Two:
Rs. 2000(Also read:
10 Coolest New Restaurants That Opened in Mumbai in 2017
)
If you haven't visited any of these yet, you have some planning to do this weekend.