Stiff peaks and a glossy sheen are the hallmark of a good meringue mix. Whether you like them chewy or crispy, do yourself a favour and use an electric whisk
There are, as we shall see, lots of dos and don'ts when it comes to making meringues. But the most important thing is this: don't forget your electric whisk.
My collaborator on this column, Jane Baxter, made that mistake some years ago, when she was hired to cater for the Rick Astley's 30th birthday party. She was supposed to be cooking baked alaska for 70, but when she got to the venue and unpacked her kit bag, she realised with a sickening lurch that she had forgotten her electric whisk. She didn't even have a manual whisk to hand.
Jane, however (in common with Astley), is not one to give up. So she got two table forks and set her team to work on beating the eggs manually. They worked all morning in rotation, whisking, whisking, whisking the eggs into a gigantic fluffy meringue. There were sore biceps all round the next day, but Astley got his baked alaska.
To save you from similarly painful ordeals, today we present you with our lifetime of accumulated meringue wisdom.
•There are two popular styles of meringue: chewy and crispy. To make them chewy, add cornflour and vinegar to the ingredients (see recipe), or, for crispy ones, leave out the cornflour and vinegar and keepthe meringues in the oven for longer - some people keep them in there for up to four hours at 50C-60C, until completely dehydrated.
•Use a very clean bowl: any grease in the bowl will stop your egg whites expanding to their full glory. Glass, metal or copper bowls are best. Avoid using plastic as it is hard to get really clean. Rubbing your bowl with half a cut lemon can help, but make sure you wipe it really dry with kitchen roll afterwards.
•Any fat from traces of yolk can prevent full whippage. Separate each egg into a small bowl before putting it into the whisking bowl. (This also means that, if you are unlucky enough to get an egg that's off, it won't contaminate the whole mix.) If some egg yolk gets into the white, try to remove it with a piece of egg shell. If loads of yolk gets into the white, start again.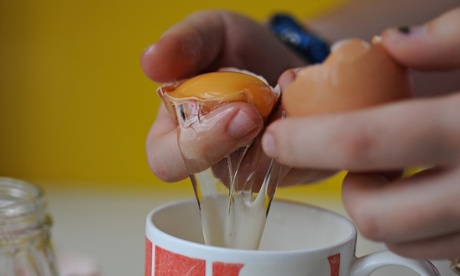 • Older egg whites are best for meringues, as it is easier to beat their runnier whites to create more volume. Whites that have been frozen and then defrosted work really well too, but make sure that all your ingredients are at room temperature before you start.
•Be careful not to over-beat the egg whites. Whisk until they hold stiff peaks and then stop. If you over‑whip them, you will notice that they go grainy. The end result will taste good, but the texture won't be right and it might leach a sugary syrup on to the cooking vessel.
•Heating the sugar (see recipe) is optional, but it does allow it to dissolve quickly into the whites. The recipe below can be made by just spooning room-temperature sugar into the whipped whites. Golden caster sugar gives a darker meringue, but imparts a lovely flavour.
•Every oven is different. If you go into any restaurant kitchen they will always have a favourite oven for meringues. Getting to know your oven is important: figure out which shelf has the most even temperature, so you don't get spotting, and work out the exact temperature you should be cooking at. This requires trial and, I'm afraid, error. I would love to meet a chef who has never messed up a batch of meringues or pavlovas.
• Do not use the fan in your oven and do not open the door while it is cooking. You need a dry oven with no humidity. For this reason meringues will also work better on a dry day. As the saying goes, you basically need "old eggs and a clear day".
•Broken or cracked meringues are very forgiving. Its is easy to cover a cracked pavlova with a topping. It will still look and taste sensational. And of course, a disastrously broken meringue can still can be used to make Eton mess.
•Lastly, and I simply cannot overstate this: use an electric whisk.
A basic meringue recipe
I always use this very basic rule of thumb for meringue: double the weight of sugar to egg whites, so 100g egg white will need 200g sugar. This mix will make one large 20cm pavlova or several smaller individual ones.
Pavlova
Preparation time: 15 minutes
Cooking time: 1 hour 40 minutes, plus cooling
Serves 6-8
250g caster sugar
125g egg white
A pinch of salt
2 tsp cornflour
1 tsp white wine vinegar
A few drops of vanilla essence
1 Preheat the oven to 200C/400F/gas mark 6. Line a baking tray with parchment and add the sugar. Put in the oven for 5-7 minutes.
2 Meanwhile, whisk your egg whites - using an electric whisk - with a pinch of salt in a clean metal or glass bowl until you have stiff peaks (and the bowl can be held upside down over your head). Be careful to not over-whisk (see above).
3 Remove the sugar from the oven. Turn the temperature down to 120C/250F/gas mark ½, leaving the door open to cool it down quickly.
4 Add about a third of the hot sugar to the meringue and whisk for about 3 minutes. Add the rest of the sugar 1 tbsp at a time, whisking well after each addition until all it's used up. Continue whisking for another 3 minutes - you should have a thick, glossy mix.
5 Sprinkle the rest of the ingredients over the mix and fold through gently. Spoon the mix on to a tray lined with parchment - use a bit of it to make the parchment stick to the tray.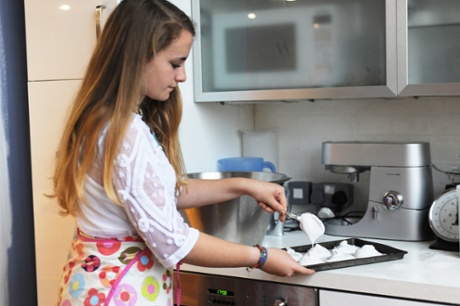 6 Bake at 120C for 30 minutes before dropping the temperature even further to 100C/210F/gas mark ¼ for another hour. Smaller meringues should cook more quickly. Turn the oven off and allow the meringue(s) to cool in the oven.
Recipe by Jane Baxter
Our favourite pavlova/meringue toppings and fillings
A number of these suggestions include alcoholic creams. To make these simply add 1 tbsp of your chosen liqueur to the double cream or whipping cream, and whip into soft peaks.
• Whipped cream and passion fruit pulp.
• Bourbon: bourbon whipped cream, poached pears, toasted pecans, chocolate sauce and maple syrup.
• Pina colada: coconut rum whipped cream, passion fruit, mango and pineapple, topped with toasted coconut.
• Calvados: Calvados whipped cream, caramelised apples.
• Rhubarb and custard: Thick double cream, thick custard and poached rhubarb.
Henry Dimbleby is co-founder of the natural fast-food restaurant chain Leon (@henry_leon)

Poached pears and syrup are a divine combination with meringue. If yours have crumbled, you can always make an Eton mess. Photograph: Jill Mead/Guardian