Papaya, or papita, is one of the healthiest fruits out there. The tropical fruit isn't just loaded with amazing health benefits, but is also very popular with people wanting to lose weight. Papayas have very less calories and, hence, are commonly consumed as healthy snack. From fruit salads to drinks and smoothies, papayas feature in a number of our dishes and drinks. Although the ripe fruit of papaya is generally eaten raw, the unripe fruit can be cooked in stews and curries. It is frequently used in Thai and Malaysian cuisines and it also finds uses in a number of home remedies from ancient remedies. Both raw and ripe papayas have incredible benefits for the skin and overall health and daily consumption of the all-season fruit is also recommended to shed those extra kilos quicker. What's more? You can have with any of the three meals during the day.


(Also Read - 9 Incredible Benefits of Papaya Leaf Juice)
Papaya, or papita, is one of the healthiest fruits
Papaya is also used in making yummy juices and chutneys, but perhaps the best way to eat papaya is to peel it and eat it uncooked, perhaps along with some health protein and fats. Eating papaya for breakfast and as a mid-meal snack may benefit you the most, if you are looking to incorporate this orange-amber fruit in your weight loss diet. But, apart from helping you achieve your body goals, papaya can also help your body in numerous other ways, from easing constipation to boosting eye health. Moreover, it's a fruit that we all love to binge on, as it's delicious to taste and low in calories.
(Also Read - Papaya For Weight Loss: 6 Papita Benefits That Make It Perfect For Quick Fat Loss)
Papaya juice is recommended for those who frequently suffer from constipation
Calories In Papaya
According to the United States Department of Agriculture data, a 100-gm serving of uncooked papaya pulp contains just 43 calories. A large proportion of the pulp is made up of water, which makes the fruit hydrating as well as filling. Papaya pulp also contains 0.47 gm proteins per 100 gm, along with 1.7 gm of dietary fibre, according to the USDA data. The same quantity of papaya pulp also contains 10.82 gm carbohydrates and 7.82 gm natural sugars. This is an advantage for those looking to use papaya for weight loss - you don't need to add any other sweetener to it because the ripened papaya fruit is naturally sweet. Papaya benefits are also credited to the presence of minerals like calcium, magnesium and potassium.


(Also Read - 4 Remarkable Raw Papaya Benefits: From Internal Cleansing to Glowing Skin)
Papayas are known to be extremely good for the stomach
While a 100-gm raw papaya pulp contains 20 mg calcium and 21 mg magnesium, it also contains 182 mg potassium and good amounts of vitamin C or ascorbic acid. The presence of this antioxidant vitamin makes papaya a great immunity boosting fruit. More importantly, raw papaya pulp contains zero cholesterol and, hence, is great for the heart and overall health. The high amount of fibre present in papaya makes it good for digestion and weight loss. Additionally, papaya is abundantly available in India. As of 2014, India was producing 5.6 million tonnes of the fruit- the highest in the world!
Health Benefits Of Papaya
Great for the skin: A number of beauty experts recommend applying papaya paste on the face, due to its deep cleansing action. The enzymes in papaya are great for removing impurities from the skin.

Fights Infections: Papaya benefits are plenty because it is rich in vitamins C, A, B and K. The presence of good amounts of vitamin C makes papaya an immunity booster fruit. Meanwhile, papaya seeds can also fight infections from salmonella, E. Coli and Staphylococcus, according to the book Healing Foods by D.K. Publishing. The book also adds that papaya seeds can be used to rid the intestine of harmful parasites.

Boost Heart Health: The presence of healthy fibre and absence of cholesterol in papaya makes it one of the best fruits to support the heart. The natural fibre in papaya, states Healing Foods, can regulate blood pressure and control the levels of Low Density Lipoprotein, or LDL, cholesterol in the blood.
Boosts Digestion: According to Healing Foods, papaya contains enzymes papain and chymopapain, both of which have been shown to aid digestion and prevent constipation. These, in combination with the natural fibre in the fruit, help in boosting digestion by a great deal. The book also says that the fibre in papaya is important to prevent diseases such as bowel cancer.
Boosts Eye Health: The amber colour of papaya is imparted to it by beta-carotene, which is also present in other red and orange fruits like tomatoes and carrots. The beta-carotene, along with vitamin E and C in papaya benefits us by helping in prevention of eye diseases like glaucoma, cataracts and other age-related macular degeneration conditions, states Healing Foods.
Weight Loss: As stated earlier, a 100-gm serving of papaya fruit pulp contains a mere 43 calories and zero cholesterol. This, along with the high fibre content, makes papaya a great fruit for aiding weight loss. This is why you should use payaya for weight loss.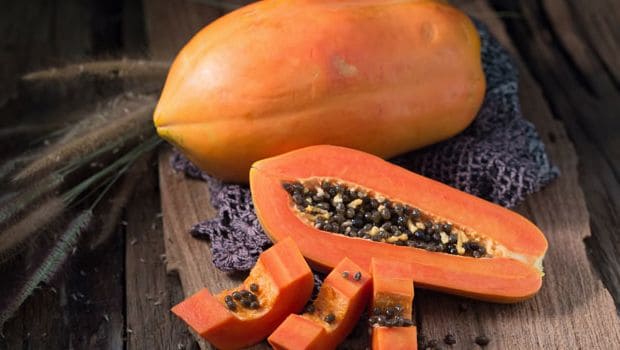 Papaya can help our body in numerous ways, from easing constipation to boosting eye health
To get the best out of papayas, consume the fruit in its entirety. Don't throw its seeds out as they also have powerful health benefits. Papaya seeds can be dried and consumed or fresh seeds can be used in cooking. Papaya juice is recommended for those who frequently suffer from constipation, but an excessive consumption of papaya may even lead to loose stools. So, now you know! Make use of one of the healthiest low-calorie fruits around to shed those extra kilos quicker.