Come winter and the market is flooded with leafy greens. While fresh vegetables are surely tempting, we have bright red carrots on top of our list. Carrots are a superfood. They're not only healthy but are also great to cook with. Apart from adding a crunch to your salad, carrots are also steamed, glazed, baked, grilled or roasted. They are surely the most versatile option out there. And, today we have a tasty savoury snack idea for you. Courtesy: Celebrity fitness trainer Yasmin Karachiwala. The fitness trainer has shared a healthier version of fries, called carrot fries. "Carrot fries will be your new obsession and let's not forget the creamy dip. These are the healthier version of fries and taste so delicious, you wouldn't even know they were carrots," she captioned the post.
Peel the carrots and cut them into the shapes of fries. Coat the carrots with oil as per your need (usually 1-2 tbsp). Now, add tapioca flour, garlic powder, onion powder, paprika, chilli or chipotle powder, salt and pepper to taste. Mix it thoroughly and make sure the carrots are evenly coated with the spices. Place them on parchment paper and bake at 400 F for 15 mins. Next, flip them on the other side for another 10 mins until it's ready. And carrot fries are ready. Oh, and not to forget the creamy dip.
Carrots have numerous health benefits linked to them. Read on to know more about the benefits:
– Drinking a glass of carrot juice can help to improve eyesight.
– Rich in fibre, carrots will perfectly fit your weight loss plan. They are loaded with soluble and insoluble fibres, hence, will keep you full for a longer period.
– The dietary fibre in carrots can also ensure good digestive health.
– Carrots are a great source of antioxidants, Vitamin A and Vitamin C.
– They're also rich in alkaline elements, which can work as a blood purifier.
– Carrots can also boost immunity, and improve heart health.
Now, to celebrate the carrot season in full swing, we have handpicked some of our favourite recipes. They are super delicious, and will surely be crowned the winner on the lunch/dinner table.
1. Gajar Halwa
Is there a better way to start the list? We think not. After all, everyone waits for this winter-special dessert. A bowl of hot/cold carrot halwa can never go wrong. Infused with the flavours of green cardamom and cinnamon, and a crunch from almonds and pistachios, this gajar ka halwa recipe is drool-worthy.
2. Asian Spicy Carrot Soup
What's better than sipping a bowl of delicious soup, while being tucked in your warm blankets? Absolutely nothing. Prepared with carrot puree, sesame, ginger, this carrot soup is every bit delectable.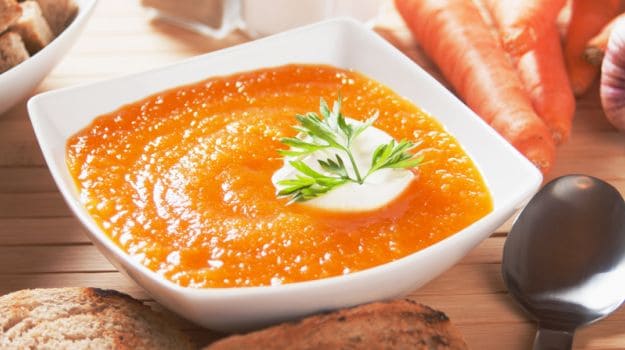 3. Carrot Pickle
This crispy, tangy and super delicious carrot pickle will serve as the perfect accompaniment for your lunch and dinner. Check the recipe here.
4. Carrot Pulao
Steamed rice mixed with grated carrots, which have been sauteed with traditional spices and a hint of sugar, makes for a delectable indulgence. Pair it with a yummy gravy or daal.
5.Carrot Ki Kanji
This winter season, score high on health quotient with this Carrot ki Kanji recipe. It will not only help improve your eyesight but will also take care of your skin and hair. Don't miss out on this recipe.


So what are we waiting for? Stock fresh carrots and cook up yummy dishes.