If there's one thing you can take for granted in Bengaluru, it's how almost every dish at the city's traditional eateries is served piping hot. 'Bisi' is the Kannada word for hot and it's the prefix in the region's favourite mixed rice - Bisi Bele Bhath. There's another dish that's usually served 'bisi', it's one of my 'go to' breakfast or anytime dishes in the city - Chow Chow Bhath. It's essentially two dishes brought together on a single platter. There's the spicy Kara Bhath or Uppitu (or what is also known as the Rava Upma) and the sweet Kesari Bhath (
sheera
or
sooji halwa
).Semolina (Rava) and
ghee
are the common ingredients but one's a savoury dish and the other is a sweet that is also prepared for festivals. According to old-timers in Bengaluru, the idea of combining these two distinct dishes into a single 'Chow Chow Bhath' might have well been invented in the city's restaurants. It's not something that was traditionally served at homes.
Some of the city's iconic restaurants like Kamat's and MTR have been serving this for decades while other eateries like Brahmin's Coffee Bar and Vidyarthi Bhavan allow you to order these dishes separately or together. The term 'chow chow' has nothing to do with the American expression chow (food) that gained currency in the 1860s. In Tamil Nadu for instance chow chow is the local name for the chayote vegetable that is used in sambars and poriyals. In Karnataka chow chow is an informal expression used for 'mixture' and it's possible that Chow Chow Bhath was used to describe this mix of sweet and spicy.
While it's common for restaurants to serve Chow Chow Bhath in Bengaluru along with coconut chutney, it's unheard of in Chennai where Rava Upma and Rava Kesari are never served together in the same dish. However, over the last couple of decades, many of Chennai's restaurants serve mini tiffin that combines a small portion of Rava Upma, Rava Kesari, a small dosa and a coin-sized idli in sambar.
The Kesari Bhath is also made with pineapple and can be served in a variety of colours (yellow and orange are the most common colours while it's not entirely unusual to spot a green version) depending on the food colours that are used. The Khara bhath sometimes also includes seasonal vegetables like fresh green peas and is served with a garnish of finely grated carrots. On a typical balmy Bengaluru weekend, few dishes hit the spot like a piping hot Chow Chow Bhath followed by a refreshing cup of freshly brewed filter coffee.

You can try making Chow Chow Bhath at home with this simple recipe:
Khara Bhath
Ingredients:
Rava: 1 cup
Water: 2 cups
Oil/Ghee: 1/2 cup
Seasoning: Mustard, Urad Dal, Channa Dal, Cashew nuts (1 teaspoon of each)
Finely chopped green chillies: 3
Onion: 1
Coriander: a handful
Finely grated carrot (for the garnish)
Green peas: 1/2 cup (optional)
Salt: to taste
Curry leave: a few sprigs
Finely chopped tomato: 1
Turmeric: 1/4 teaspoon
Method:
Dry roast rava in quarter teaspoon of oil/ghee.
Add the seasoning ingredients to a pan of oil/ghee.
Add onions and a few sprigs of curry leaves and green chillies once the oil starts to splutter.
Fry till the onions turn brown.
Add water, chopped tomatoes, green peas.
Add the rava slowly, stir continuously and make sure no lumps form.
Continue stirring for about 7-10 minutes till the dish is done and 'leaves' the pan.
Garnish with chopped coriander and grated carrot. Cover dish with a lid for about 5 minutes.
Add a dollop of ghee before serving.
Kesari Bhath
Ingredients:
Rava: 1 cup
Water: 2 cups
Sugar: 1 1/2 cups
Ghee: 1/2 cup
Cashew nuts: handful
Raisins: handful
Saffron: a few strands
Cardamom: 6 (finely pounded)
Food colouring (optional)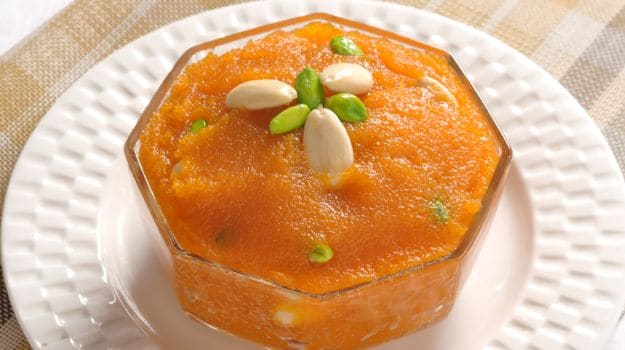 Method:
Add the ghee to a pan.
Fry the cashews and raisins till the cashews turn brown.
Add and fry till it turns golden brown.
Boil water separately (add food colouring).
Add the water to the rava gradually and keep stirring making sure no lumps are not formed.
Add sugar once the rava and water are mixed well and keep stirring till it is done.
Add cardamom, saffron (mixed with a few drops of warm milk) and a dollop of ghee before serving.
About the Author:
Ashwin Rajagopalan is a cross cultural training expert and lifestyle writer. When he's not writing about food, he thinks about gadgets, trends and travel experiences. He enjoys communicating across cultures and borders in his weekday work avatar as a content and editorial consultant for a global major and one of India's only cross cultural trainers.
Disclaimer:
The opinions expressed within this article are the personal opinions of the author. NDTV is not responsible for the accuracy, completeness, suitability, or validity of any information on this article. All information is provided on an as-is basis. The information, facts or opinions appearing in the article do not reflect the views of NDTV and NDTV does not assume any responsibility or liability for the same.
About Ashwin RajagopalanI am the proverbial slashie - a content architect, writer, speaker and cultural intelligence coach. School lunch boxes are usually the beginning of our culinary discoveries.That curiosity hasn't waned. It's only got stronger as I've explored culinary cultures, street food and fine dining restaurants across the world. I've discovered cultures and destinations through culinary motifs. I am equally passionate about writing on consumer tech and travel.