Many of us have to force ourselves to eat green vegetables. We know they are good for health, but awareness does not always make it easier to consume them. A popular way to eat greens like broccoli is as part of a leafy salad or solid lunch preparation. Sometimes seeing the pieces of broccoli itself puts our mood off. But what if you could eat them without them actually being visible? That becomes possible if you turn them into soups! Soups are a wonderful way to get most of the health benefits of veggies like broccoli. You can also choose your favourite seasonings and accompaniments to make the soup seem more inviting. Here are 5 broccoli soup ideas to get you started:
5 Quick And Healthy Broccoli Soup Recipes
1. Roasted Broccoli Soup
This easy recipe uses everyday ingredients to create a nourishing and delicious broth. To make this soup, roast broccoli florets, onions, potatoes, garlic cloves, salt, and pepper in olive oil in a saucepan. You can also choose to bake them until lightly browned in the oven. In a blender, add vegetable broth and the roasted veggies. Blend until smooth and add seasonings as required. Reheat the soup for a minute or two before serving. Garnish with roasted broccoli florets or cheese croutons.


Click here for the full recipe.
2. Cream of Broccoli Soup
You may have tried cream of almond or cream of chicken soups. Now it's time to try Cream of Broccoli! This soup is extremely simple to make.


Heat butter or oil in a pan. Add half the quantity of broccoli and saute it on low heat. Add the flour to the saucepan and mix thoroughly. You have to add stock once the pan is taken off the heat. Blend this mixture in a blender once cooled. In the pan, add the rest of the broccoli, milk, salt and black pepper and celery salt. Stir, allow it to boil and then simmer over low heat for 10 minutes. Serve the soup hot and don't forget to garnish it with cream.


Click here for the full recipe.


(Also Read: Easiest Broccoli Recipe You'll Ever Find - Make Healthy And Delicious Roasted Broccoli)
3. Wasabi and Broccoli Soup Recipe
This soup has a Japanese twist to it that will leave you wanting more. To make this soup, stir-fry onions and garlic in olive oil. Add broccoli and water to cook it. Once the veggies are 50% done, add wasabi, cheese and cream. Transfer this mixture to a blender and blend thoroughly. In a separate pan, stir fry potatoes in olive oil until nicely browned. Season with salt only after removing all the oil from the pan. Garnish the soup with these potatoes and chilli flakes. You can also serve it with apple compote.


Click here for the full recipe
4. Broccoli, Mint And Pea Soup
A combination of three green ingredients, this soup has an unexpected hint of freshness to it - making it a welcome meal in summer or winter. To make this soup, first, saute chopped garlic and sliced onions in butter. Next, add florets of broccoli, peas and vegetable stock to the saucepan. Let the mixture simmer. Once the broccoli has softened, turn off the heat and allow the mixture to cool. In a blender, add mint leaves and the broccoli mixture. Blend to get smooth gravy-like consistency. Strain the soup, and season with salt and pepper. Reheat before serving and garnish with more mint.


Click here for the full recipe.


(Also Read: How To Eat Broccoli Stalks: 7 Ways To Use Them To Make Your Meals More Nutritious!)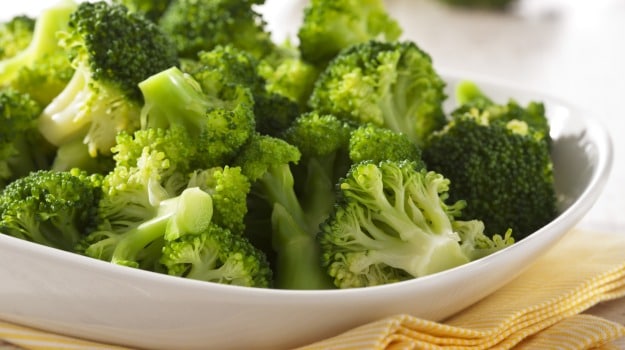 5. Broccoli and Cheddar Soup
Cheese lovers, this one's for you! If adding your favourite ingredient makes eating your greens more bearable, then this soup is a perfect choice. First cut and blanch broccoli florets. Chop them finely. Make a roux by mixing 1/2 butter and 1/2 maida over low heat in a pan with butter, sweat onion and garlic. Later, add chopped broccoli, salt, and nutmeg powder and saute all ingredients together. Transfer this mixture to a bowl and refrigerate it for a few minutes. To prepare the base, mix the roux and some of the stock into a paste. Boil the remaining stock in a pan. Add the roux mix once it is simmering. Add cheddar cheese, broccoli puree, fine broccoli mixture and cream.


Click here for the full recipe.


Which of these broccoli soups are you going to try first? Let us know in the comments below.
About Toshita SahniToshita is fuelled by wordplay, wanderlust, wonderment and Alliteration. When she is not blissfully contemplating her next meal, she enjoys reading novels and roaming around the city.