Indians embraced western cuisine with aplomb and took to its flavours and taste in no time. The western foods left such an impression on us that we no longer wait to visit restaurants to eat our favourite meals; we make them in our own kitchens now. A bakery item called croissants has become hugely popular in our country. It is a light, flaky, pastry that gets its name for its crescent shape. Its buttery taste and fluffy texture is what that made us go gaga over this delicacy. Croissants are gradually replacing bread toasts for breakfast or tea time; and if you add some sweetness to it, you get yourself a light and delicious dessert.


Croissant is a fine French pastry that is a common food item all across the world. We have often tried it in restaurants and loved it each and every time. So, just like other foods that we love and make at home, why not try making croissant as well?


We know we are asking you to barge in an unknown territory, but we are also backing you up with an easy recipe that will make your job easier and will make your baking experience enjoyable. And, this recipe is not about plain old croissant, but of almond croissant. Nowadays, you can easily get plain croissants at local supermarkets. Get it and turn it into this delicious almond croissant and you'll go back to making it again and again. Almonds, as you know, are full of nutritional properties and when added to any dish, impart a great nutty taste.
(Also Read: Know Your Bread Basket: From Baguette to Croissant and More)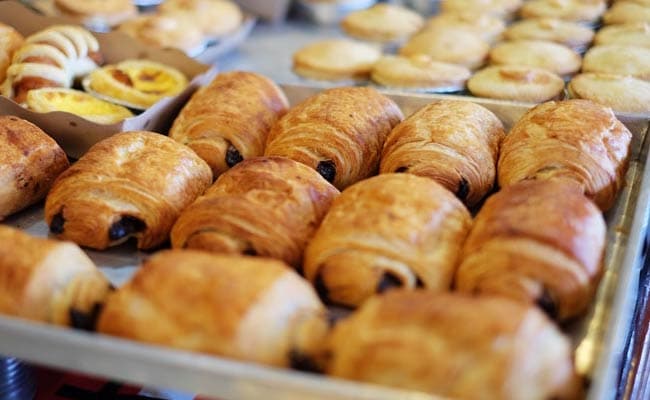 Almond Croissant Recipe –


5 croissants
2 tablespoons almonds, thinly sliced
Half cup almond flour
2 eggs
2 tablespoons powdered sugar
2 tablespoons powdered or sugar granule
1 teaspoon vanilla extract
Half cup butter
A pinch of salt


Method –


1.Make sugar syrup with half cup water and 1 tablespoon sugar.


2. Mix together 1 tablespoon powdered sugar, salt and almond flour. Then add butter, vanilla essence and eggs and whisk well.


3. Slice all the croissants from the middle. Dip them in the sugar syrup and coat them with the almond flour paste. Sprinkle sliced almonds and bake them until golden brown. (10-15 minutes)


(Also Read: Croissushi, A Cross Between Croissant And Sushi, Is A Thing Now!)


You can also make the croissant at home from scratch if you want to. Even if you don't have that much time, do try making this almond croissant, which can be made in less than 30 minutes. Enjoy this amazing pastry for breakfast with tea or juice or smoothie.
About Neha GroverLove for reading roused her writing instincts. Neha is guilty of having a deep-set fixation with anything caffeinated. When she is not pouring out her nest of thoughts onto the screen, you can see her reading while sipping on coffee.