The Asian root spice of turmeric or haldi hardly needs any introduction. The spice is made from the root of a flowering plant that belongs to the ginger family and is native to the Indian subcontinent, as well as some parts of Southeast Asia. The rhizomes of the plant are gathered and then dried in hot ovens, before they are ground to make the powder that we all know so well. A number of home remedies for a wide variety of small and big ailments include turmeric powder as one of the ingredients and it is also used to enhance beauty and heal wounds.


The spice that is hailed by Ayurveda for its potent anti-aging and antioxidant properties is a common feature in a lot of vegetarian and non-vegetarian Indian dishes. Turmeric is one of the most important spices in the spice box that can be found in almost every Indian kitchen. But should turmeric be cooked or should it be consumed raw to reap its benefits better? Let's find out!

(Also Read: A Secret Ingredient That Turmeric Milk is Incomplete Without)
Turmeric Health Benefits
Tumeric has a number of health benefits, including naturally cooling the body and also improving immunity. A number of studies have proven the antioxidant properties of the spice as well. This is why golden milk and golden lattes with turmeric powder in them have started making appearances in cafes around the world. Most of the benefits of turmeric have been credited to the presence of certain compounds called curcuminoids. In turmeric powder, about 1 to 6 per cent curcuminoids are present, which lend the spice its antioxidant properties. Along with curcuminoids, turmeric also has some 34 essential oils. These compounds lend turmeric its health benefits which include protecting the brain, boosting digestion and immunity, providing relief from arthritic pain and even prevention of cancer!
Does Cooking Turmeric Destroy Its Benefits?
Most of our culinary usage of turmeric involves either cooking it at high temperatures or fermenting it in pickles. But are we destroying its benefits by cooking it? According to a research study conducted by the Department of Biochemistry and Nutrition, Central Food Technological Research Institute, Mysore, boiling and pressure cooking turmeric for long duration, may lead to a loss of curcumin compound of turmeric. The researchers observed the effect of heat on curucumin in turmeric in three different situations- boiling for 10 minutes, boiling for 20 minutes and pressure cooking for 10 minutes.

Also Read: 5 Side-Effects of Turmeric (Haldi): How Much Is Too Much?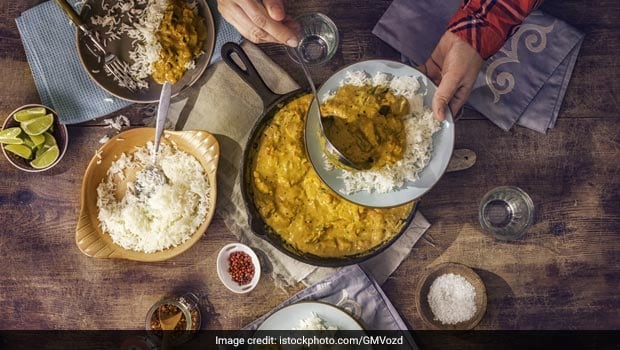 Cooking turmeric for long duration may result in loss of curcumin
The results of the study said that about 27 to 53 percent of curcumin was lost due to heat processing. However, when a souring agent was present during the heat processing, the loss of curcumin came down to between 12 and 30 per cent. Tamarind was the souring agent used in this particular study. The maximum loss of curcumin was observed during pressure cooking of turmeric.
Experts Speak: Raw Turmeric Versus Cooked Turmeric
Consulting nutritionist Dr. Rupali Dutta says that cooking turmeric has the opposite effect on curcumin than what is demonstrated by the study above. In fact, a majority of the research conducted on the effects of heat on curcumin speaks in the favour of cooking the spice. "Curcumin becomes more bio-available once turmeric is cooked. That is due to certain enzymatic reactions that occur when the compound is subjected to heat," says Dr. Dutta. She further said that cooking turmeric for a duration of five to 10 minutes in any type of oil enhances the absorption of curcuminoids by the body.

(Also Read: Turmeric Powder for Beauty: How to Use it for Your Face and Skin)


Macrobiotic Nutritionist and Health Practitioner Shilpa Arora also recommends adding turmeric to dals and curries every day, to increase the antioxidant capacity in the body. When it comes to recommendations about cooking turmeric, Arora echoes the advice of Dr. Dutta, saying that the absorption of curcumin is much better when turmeric is cooked or fermented in pickles.
In Conclusion: Should You Be Cooking Turmeric?
As the study suggests, boiling is the worst way to cook your turmeric, as it results in the maximum loss of curcumin. However, cooking it for short durations of time may actually increase its health benefits by making the curcuminoids more readily absorbed by the body. You may want to be a bit creative with turmeric in the kitchen. Try sprinkling a little bit of turmeric powder on top of your soups and smoothie bowls and blending it in with your coffees and milkshakes.

(Also Read: Is Your Turmeric Real or Fake? Use These Smart Tricks to Find Out)


While cooking lentils or dal, you may want to put the turmeric in later, instead of adding it in while pressure cooking the dal. One way is to add the turmeric in the tadka which is usually added to the dal after it is cooked. The short duration cooking of turmeric in the ghee may result in better retention of curcumin.

(This content including advice provides generic information only. It is in no way a substitute for qualified medical opinion. Always consult a specialist or your own doctor for more information. NDTV does not claim responsibility for this information.)
About Sakshita KhoslaSakshita loves the finer things in life including food, books and coffee, and is motivated by self-indulgence and her love for words. When not writing, she can be found huddled in the corner of a cosy cafe with a good book, caffeine and her own thoughts for company.