Papaya is considered to be one of the most nutritious foods, which is available all year round. It is juicy, soft and tastes sweet if it is ripened. Nutritionists suggest consuming low-calorie papaya every day for strong immunity and smooth digestion. In many households, papaya is a must-have breakfast staple for the various health benefits it provides. 'Healing Foods', a book by DK Publishing House, describes papaya as an antibacterial food with considerable antioxidant properties due to a high amount of vitamin E, vitamin C and beta-carotenes. The natural fibre of the fruit controls blood pressure and unhealthy LDL cholesterol levels. With these and more such advantages of consuming papaya, it is only wise to have it regularly in some form or another.


Even though papaya is supposed to be sweet, but many times it turns out to be bland or in some cases, even sour. That's why not everybody likes to eat papaya directly, in its raw form. However, there are some clever ways of adding this super fruit to your diet, and what better way to consume it than in a healthy salad?
Here are some healthy recipes of salads with papaya as the main ingredient -
Hawaiian Papaya Salad
The melange of colourful fruits along with papaya in this salad gives the feel of a rainy, beachy season right in the comfort of your home. This salad is also perfect to serve at a pool side gathering or a beach-themed party.
(Also Read: 8 Amazing Benefits Of Papaya For Health And Skin)
Raw Papaya Salad
This easy-to-make salad can be rustled up in minutes. Grated papaya mixed with lime and roasted or fried peanuts - makes this salad a simple but a delicious meal. Serve this appetising salad to guests and impress them with your culinary finesse.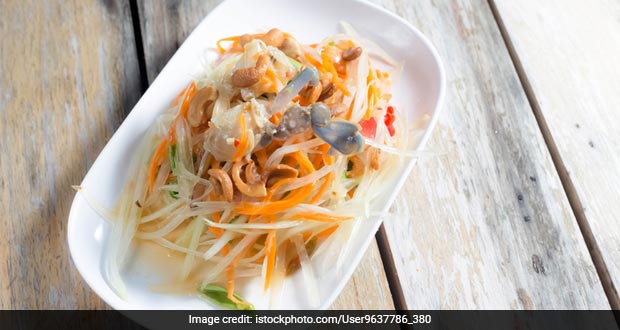 Grilled Peach and Papaya Salad with Amaranth Granola
This salad spells health and good taste at the same time. Grilled papaya along with granola and seeds like flaxseeds renders this unique salad a never-seen-before, enticing look and also adds in a medley of flavours.


Grilled Peach And Papaya Salad
Som Tam Papaya Salad
This one is for Thai food lovers. Shredded, noodle-like strands of papaya and vegetables like capsicum topped with tangy lime juice and soy sauce - fill up the salad with flavours.


(Also Read: 11 Best Papaya Recipes)

If you are a health freak, you'd know how eating papaya may help in achieving your health goals. Try the above-mentioned recipes of salads with papaya and enjoy a healthy meal with the added goodness of the nutrient-rich fruit.

About Neha GroverLove for reading roused her writing instincts. Neha is guilty of having a deep-set fixation with anything caffeinated. When she is not pouring out her nest of thoughts onto the screen, you can see her reading while sipping on coffee.