Story Progress
Back to home
Grilled Peach and Papaya Salad with Amaranth Granola Recipe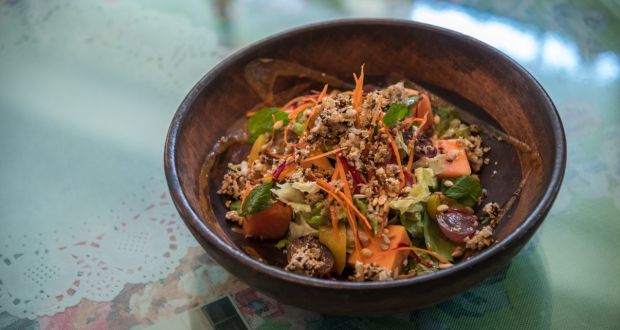 How to make Grilled Peach and Papaya Salad with Amaranth Granola
A delightful salad very apt for those lazy and relaxing sunday brunches.
Total Cook Time

1 hr 05 mins

Ingredients of Grilled Peach and Papaya Salad with Amaranth Granola
For the dressing:
100 gram Papaya
30 ml White balsamic vinegar
10 gram Sugar
Olive oil
For the amaranth granola:
100 gram Amaranth (puffed)
60 ml Honey
5 gram Paprika
5 gram Garlic powder
10 gram Flaxseeds
10 gram Sesame seeds
30 gram Rice flakes (puffed)
To assemble the salad:
60 gram Arugula
60 gram Romaine
60 cups Sorrel
150 gram Papaya (diced)
1 Peach (cut into wedges)
Few Cherry tomatoes
Few Olives
10 gram Sunflower seeds (toasted)
How to Make Grilled Peach and Papaya Salad with Amaranth Granola
Hide

Show

Media
Prepare the dressing:
1.
Make a puree of the papaya.
2.
Add White Balsamic Vinegar to the puree.
3.
Adjust the acidity by adding the sugar.
4.
Blitz in a blender at slow speed along with olive oil till an emulsion is formed.
5.
Set aside in a refrigerator.
Prepare the amaranth granola:
1.
Combine all the ingredients and bake in an oven at 140 degrees for 15 minutes.
2.
Once cooked take out and cool.
Assemble the salad:
1.
In a bowl, add the leaves and add a tbsp. of the dressing. Mix well and put on the base of the serving dish.
2.
Combine the rest of the ingredients with 2 Tbsp of dressing and place on top of the leaves.
3.
Break the granola into little pieces and put on top of the salad.