In the world of comfort food, the humble
pita
bread finds a dedicated spot. The pillowy, fluffy bread has been satiating hunger and bringing joy to our taste buds. In the age of fusion food and culinary experimentation, pita bread has not been left out. Food experts and enthusiasts consider pita as a strong contender in delivering innovative delicacies that are not only exciting on the palate but super easy to rustle up as well. With a variety of pita breads invading the supermarket shelves, there exist endless possibilities to assemble something novel with it. This article sets out to share various ways in which you can use the regular pita and arrive at something exciting. Keep these tricks handy to dish out something sensational and wow your guests.
P.S: Pita is an absolute hit with kids!
1. Create sumptuous filling or salad mixture and stuff inside pita pocket. You can also bake the entire thing. Just about anything can be stuffed in a pita pocket, from last night's leftover chicken curry to mutton seek, scrambled eggs and what not.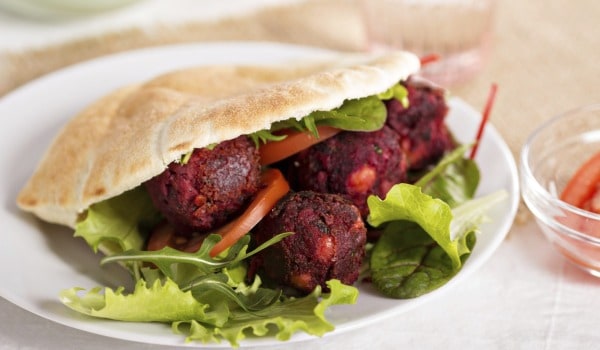 2. Cut a pita pocket open and use the flattened version as a mini-pizza base.
3. Cut-out, flattened pita base can also be lightly tossed on a pan and used as a base for sumptuous rolls and wraps. Put delectable kathi fillings in the middle and roll up.
4. Cut into tiny shapes of your choice, add a drizzle of butter or flavoured olive oil along with herbs and seasonings of your choice. Bake crisp for 8-10 minutes at 400 degrees.
5. Cut into shapes of your choice, coat with butter, drizzle atop cinnamon and granulated sugar and bake until crisp at 400 degrees for 8-10 minutes. Finish by topping with yogurt, maple syrup, honey, fruits, berries and nuts of your choice.
Before you move on to experiment with the good old pita, get back to basics and learn how to make one from scratch. Keep this recipe handy!

Pita Bread recipe by Chef Niru Gupta
Ingredients
Oven temp: 200 C-450 F
2 cups refined flour
1 tsp dry yeast
1 cup lukewarm water
1 tsp salt or to taste
Water to knead dough
Method
Sprinkle the yeast over the lukewarm water and leave in a drought-free place for 10-15 minutes. By now it should be frothy (if not, change your packet!).
Mix the yeast into the flour along with the salt and knead to soft dough with water.
Cover with cling film or a wet cloth and leave in a drought-free place for about an hour, to rise a little bit.
Divide the dough into 6-8 pieces and roll into flat or oval rounds.
Bake in the pre-heated oven for 8-10 minutes (they should puff up and get a light brown).
Better still, bake in an oven-toaster-grill (with elements on both sides).
Remove from oven and pile one on top of the other or pressed with a plate or lid.